JTF (just the facts): Published in 2010 by Grand Central Publishing (here). 304 pages, with 22 reproductions of artworks. (Cover shot at right, via Amazon.)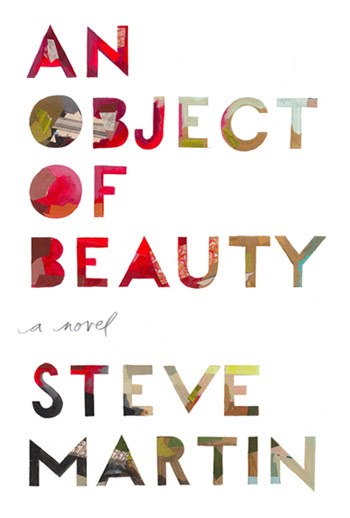 Comments/Context: Even though I knew Steve Martin's new novel had nothing to do with photography in particular, I couldn't help picking it up to see how he would take on collecting and the larger world of contemporary art. In general, my expectations and standards for art world fiction are exceedingly low; I've breezed my way through plenty of marginal stories of heists, forgeries, and intrigues over the years, happy to consume and discard them as the disposable entertainment that they are. The difference here is that Martin is himself an art collector, and so has almost certainly lived variations on many of the vignettes that pepper his story. As a result, when he opens up his biting wit, he is able to aim it with exacting precision, slicing the soft underbelly of auction houses, galleries, and fellow collectors with sparkling, almost gleeful flair.
The skeleton of the story is perfectly logical and predictable: a young woman (Lacey Yeager) starts as a junior cataloguer at Sotheby's, works her way up into the American Paintings department, leaves to become a director at an uptown gallery, and eventually opens her own gallery in Chelsea. Martin then takes this simple framework and embellishes it with a combination of insightful insider commentary (museum visits, individual painting explications, market analysis, and smart collector-driven thoughts) and a smorgasbord of art world scheming (bid rigging, dealer arbitrage, back room deals with museums, FBI investigations, various flavors of deception, and a pervasive streak of ambitious sexuality), hanging it on a chronological timeline that includes both the exuberant booms and the punishing busts of the past decade. It's all held together by the singular personality of his heroine, whose appetite for success is both insatiable and often reckless. Her driving aspirations lead her down plenty of opportunistic alleys, and while her triumphs cover her failures in the short term, in the end, she makes some poor choices that ultimately leave her in disgrace.
I found the ending of the book to be surprisingly depressing. This is particularly odd, since this novel is bursting with so many snappy one-liner comebacks and salty dialogue snippets that you'd expect to come away with a wry smile and a hearty chuckle (his disemboweling of a pair of clueless collectors and their Joseph Beuys felt suit is joyfully withering). And not that Lacey didn't deserve her eventual comeuppance; she did, that's clear. But when you close the cover on this story, it leaves you with a sad, deflated feel, as if all the machinations came to nothing, as if the whole art world was just a sham. As a collector who still finds moments of amazement every time I make a gallery tour, I found this conclusion to be overly jaded and pessimistic. Sure, the art market has its ridiculousness and its human imperfections, but I still believe that the art itself turns all of that nonsense into noise.
That said, this is a light and diverting satire, with plenty of juicy descriptive tidbits and moments of blinding repartee. Enjoy it for its sharp sarcastic humor, and watch with pleasure as Martin shrewdly cuts the workings of the art market to shreds.