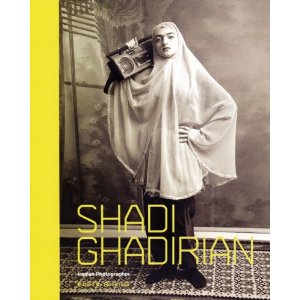 JTF (just the facts): Published in 2008 by Saqi Books (here). 64 pages, with a total of 33 color and black and white images. Includes a foreword by Marta Weiss and an essay by Rose Issa. (Cover shot at right, via Amazon.)
The book includes work from five different photographic series:
Untitled Qajar series, 1998-1999
Like Every Day series, 2001-2002
Censors' series, 2003-2004
Be Colourful series, 2004-2005
Ctrl+Alt+Del series, 2006-2007
Comments/Context: Shadi Ghadirian's photographs are a window into the lives of women in today's Iran, where traditional ways are constantly clashing with the tides of Western modernity. I was first introduced to Ghadirian's work several years ago, when I saw images from her terrific Qajar series. In these sepia toned black and white works (several of which are reproduced in this thin retrospective volume), the photographer has painstakingly re-created highly posed studio portraits from the 19th century, complete with painted backdrops and period clothing. She has then deftly introduced a variety of anachronistic modern props: a Pepsi can, a vacuum cleaner, Ray-Ban sunglasses, a mountain bike, or a portable stereo. The effect is both dissonant and contradictory, with an underlying layer of satire and sly wit. The pictures have a jarring personal audacity and rebelliousness, the women behaving in ways that we in the West would find ordinary or commonplace, but many in their own restrictive society would find entirely inappropriate, the mix of time periods highlighting how much or how little has changed.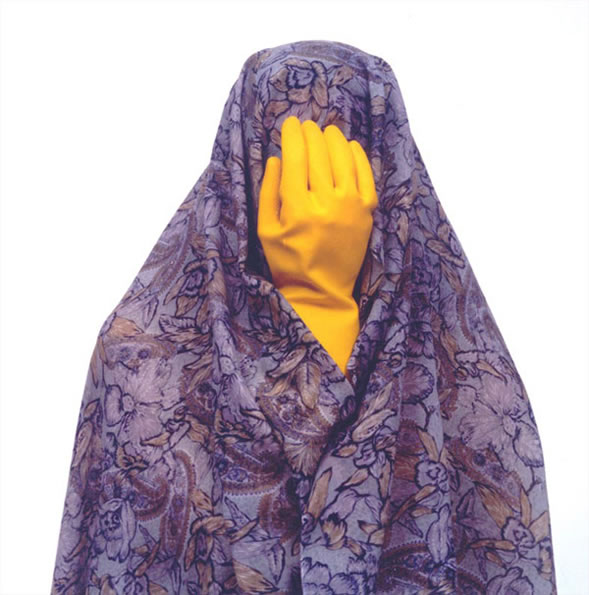 Ghadirian's series Like Every Day takes on contemporary women's roles in a different manner. In these color works, she has taken portraits of patterned chadors worn by women inside their homes and replaced faces with everyday household implements: a rubber glove, an iron, a teapot, a cheese grater, a broom, or a cooking pot. My first reaction was that these were a light sendup of domesticity. But looking at them further and especially when the pictures were shown together as a typology, a deeper sense of controlled and repressed unease set in; the household duties of a newly married wife in Iran are meaningfully restricted to cooking and cleaning (most of the items were apparently wedding presents), providing little in the way of societal mobility. (Like Every Day, 2002, at right, via Kashya Hildebrand.)
Others works in this monograph tackle other facets of a confined world, with a particular dissection of censorship. While not every series is as successful as these two, Ghadirian is clearly making photographs that explore her own complex reality as an Iranian woman. It's an authentic perspective we don't see too much here in the West, and one that exposes a more nuanced story than we get on the evening news.
Collector's POV: Shadi Ghadirian is represented by Silk Road Photo Gallery in Tehran (here), Aeroplastics Contemporary in Brussels (here), and Kashya Hildebrand in Zurich (here). Only a handful of her works have made it into the secondary markets for photography, finding buyers between $4000 and $8000. As such, gallery retail (from afar) is likely the only option for interested collectors at this point. By the way, I think her work would have fit quite snugly into the Pictures by Women show currently on view at the MoMA (here). And while the current political environment might make bringing this work to New York more challenging, I would certainly enjoy seeing some of these images in person.
Transit Hub: