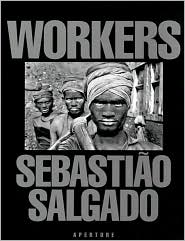 JTF (just the facts): Subtitled An Archaeology of the Industrial Age. Published by Aperture in 1993. 400 pages, with 350 duotone images, taken between 1986 and 1992. (Cover shot at right.)
Comments/Context: We have a relative who visits us perhaps once a year, and he is a photographer who has spent much of his life traveling the world making photographic portraits of indigenous peoples. Every time he comes to our home and sees the photography crowded on the walls, his first question is always, without fail, "Do you have any Salgados?" Since we don't collect portraits or documentary photography, I am never ready with a very good answer. But his question has kept me thinking for many years, about why of all the photographers that one might fall in love with, he had been smitten with Salgado. So this year, when asked about which photo books I might be interested in for Christmas, I mentioned that it was about time we had a book on Salgado for our library. Lo and behold, one arrived under the tree on Christmas morning. Thus the reason for today's review of a book published more than 15 years ago.
Of course, the reason our relative admires Salgado is that their work shares a similar passion and interest in the overlooked and forgotten peoples of our world. Workers is a kaleidoscopic portrait of the hardships and dignity of the manual labor that underlies our industrialized civilization, even in today's technology-driven information age. Over a handful of years, Salgado made pictures in 26 countries, spanning the globe from India and Bangladesh to Kazakhstan and Azerbaijan, and from Brazil to China. He investigated the production of sugar and cocoa, the mining of coal, oil and gold, and the building of automobiles and ships. He went on fishing boats and to slaughterhouses, and visited steel and iron ore plants and textile factories. He witnessed the massive construction of dams, tunnels, and canals. His images show a thorough and detailed understanding of how these various industries get their work done.
What he finds is that regardless of the specifics of any of these labors, the work is nearly always dangerous, dirty, and wearyingly difficult. The working conditions can be appallingly tough. There is brutality and exploitation. And yet within these hellish environments stand the workers themselves, time and again, getting the job done in the face of tremendous challenges. Salgado shows these workers in the worst of humanity's jobs with honor and nobility, deserving of our respect and thanks for doing the ugly things that need to be done to make our world a place we can live in. These are not blandly objective documentary images, but a concerned and potent voice pointing out what we may have missed.
Nearly all the images in this book have a sense of motion, a visual feeling that the work continues all around us, even when one individual has been singled out for a moment of attention. These are not static shots; things are being done. And even in the shipyards, mines and oil rigs of the largest scale, most of the jobs look small (and often tedious), tiny cogs in the massive machine.
The images in the book have been carefully grouped and sequenced, and the total effect is powerful. One quibble I have is that all of the horizontally oriented pictures have been printed across two pages, burying the center of each image in the valley of the book's spine. While the larger size of the images increases their impact, the images have a chopped up feel that makes them more difficult to fully appreciate. But overall, this body of work is consistently well crafted and tremendously effective in opening our eyes to the realities of the difficult labors that still go on all around us. It is still completely relevant, 15 years after its first publication.
Salgado
has his own Paris-based press agency,
Amazonas
Images, site
here
.
Collector's POV: Salgado's images of the gold miners in Brazil and of the train station in Bombay, among many others, are often available in the secondary market, in various sizes. Prices range from a few thousand dollars (for later prints) up to the $15000 range for vintage prints of the most famous images. While it seems unlikely that we will add a Salgado to our particular collection in the near future, the book has a bold spine with large lettering that will stand out on our library shelves, perfect for grabbing the attention of our once-a-year Salgado fan. Having now spent time absorbing these images, we will now be ready for a much deeper conversation about his work.