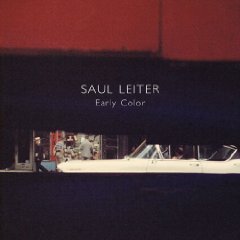 JTF (just the facts): Published in 2006 by Steidl. Small format volume, unpaginated, with 79 color images. Includes an essay by Martin Harrison. (Cover image at right.)
Comments/Context: When the story of color photography is told, William Eggleston is often given credit for being the artist who broke the black and white mold and first used color on its own terms. And while this might indeed be the case, especially considering Eggleston's downstream influence on other photographers, I think this small book of Saul Leiter's early color images makes a compelling case for a rewriting of the agreed upon narrative.
The images in this book were taken in New York in the period between 1948 and 1960 (a full decade or more before Eggleston), at a time when abstraction in general and Abstract Expressionism more specifically were ascendant modes of artistic expression in the United States. During these years, color photography was almost exclusively used in commercial endeavors (magazine advertising etc.), mostly due to its complexity and high cost. And yet Leiter somehow found ways to make a surprisingly deep body of non-commercial color work during these years.
Leiter started out as an abstract painter, and his photographs follow along a similar line of thinking, while incorporating the two dimensional flatness of the camera's eye. Using the chaos of the city as his subject matter, his images are fragmented into layers, often using reflections from windows and mirrors to create additional visual density. Spaces are divided into elegant geometrical forms, many split by vertical stripes and bands of color reminiscent of Barnett Newman's zips.
Ladders, umbrellas, lamp posts, staircases, and hats all become lyrical shapes. People (in profile, from behind or as shadows) become abstract forms. Snow (drifts and piles in the streets) and rain (fogged windows, streaming with rivulets of water, or shining, reflective streets) both play repeated roles as image enhancers. The use of color is careful and controlled, playing a quiet and effective supporting role, rather than dominating the viewer's attention. Leiter's compositions coalesce all of these competing forces into a nuanced and consistent way of seeing.
Collector's POV:
Saul
Leiter
is represented in New York by Howard
Greenberg
Gallery (
here
). His work has not to date been widely available at auction. I think these pictures would fit extremely well with early (1940s/1950s) black and white work from Aaron
Siskind
and Harry Callahan, to be followed by later abstract city color by Luigi
Ghirri
, Stephen Shore, Helen Levitt and even recent Louis
Stettner
. Densely packed 1960s and 1970s Lee
Friedlander
would also make good companions for this work. And of course, it would also resonate well with the more geometric works of the Abstract Expressionist painters of the same time period. I have thoroughly enjoyed this book and have come back to it again and again; we will certainly consider these works carefully for addition to our collection.