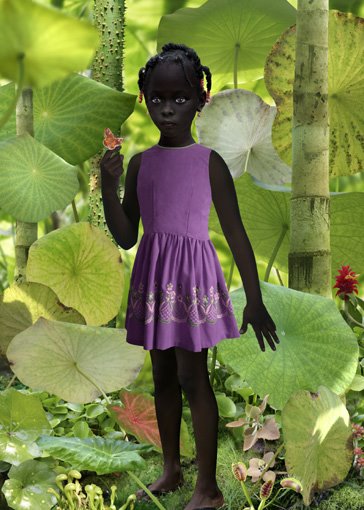 JTF (just the facts): Ruud van Empel, Moon World Venus, published in 2006, in conjunction with an exhibit at the Museum Het Valkhom, Nijmegen. 151 pages. In English and Dutch. (World #11, 2005 at right.)
Comments/Context: When I saw this book in a museum bookshop recently, I knew we had to have it for our library. Even though we don't collect portraits, we've been interested in the Dutch artist's work since we were introduced to it a few years ago. His large format portraits really jump off the wall at you, full of saturated color and mystery. When looking back a few decades from now, I think we will think of the 2000s as a time when digital manipulation first came into widespread use and photographers really began to use the new tools to actually rethink the practice of picture making, rather than for quick and cheap visual trickery.
van Empel's work seems to reference and echo the art historial past in interesting ways. It is hard for me to look at his work and not be reminded of both the paintings of Henri Rousseau (see The Dream, 1910, below left) and the photographs of Mike Disfarmer (see Little Blond Girl, below right)
The van Empel potraits are very painterly, with lush, high precision tableaux set behind the figure. And yet the figures themselves are very straightforward. The combination lends the pictures as sense of impossibility, or innocence, or contrast, or an aura of sinister trouble awaiting. They're definitely not boring, and not anything that could have been done before the advent of the new technology.
The monograph has a complete set of all of van Empel's work to date, so the evolution and refinement of his ideas can be seen more clearly.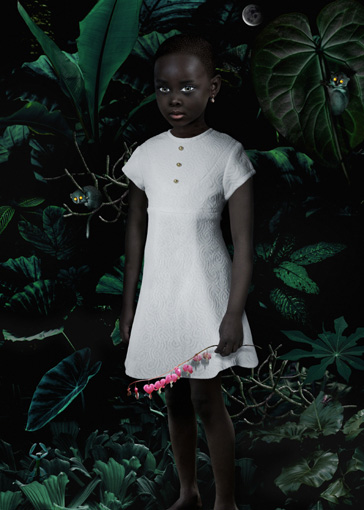 Collector's POV: I think these images are going to hold up well over time. (Moon #1, 2005 at right.) They can also be paired/contrasted with the work of the German photographer Loretta Lux (her site is here), who is perhaps slightly better known here in the US and riffing on a similar theme. The work of both artists has begun to appear on the secondary market. The value of Lux' work has been strong, consistently running in the $10000-20000 range, with quite a bit of material coming up for sale. There has been less of van Empel's work in the auction market, so I'm not sure where the prices are shaking out, but my impression is that his prices are somewhat higher and rising fast.
Ruud van Empel's artist site is
here
. He is represented in the US by
Stux Gallery
.