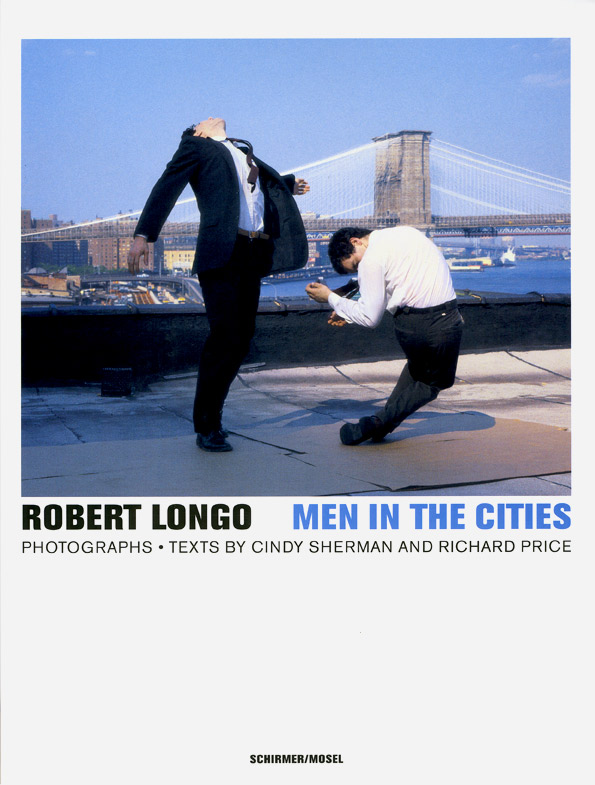 JTF (just the facts): Published in 2009 by Schirmer/Mosel (here). The book is subtitled Photographs 1976-1982. 128 pages, with 93 color and black and white images. Includes a short essay by Cindy Sherman and an artist interview with Richard Price. In both English and German. (Cover shot at right, via Amazon.)
Comments/Context: Until I recently came across this excellent book, I had no idea that Robert Longo had used photographs as the source material for his famous drawings of lunging 1980s men in skinny ties; I had always assumed that the pictures were appropriated from somewhere or just imagined in his own mind. In fact, Longo set up his camera on the rooftop of his apartment and threw a variety of objects at his friends, capturing their violent reactions in these amazing photographs, that he then turned into his now iconic monochrome drawings.
What is altogether surprising about these pictures is that they rival the best dance photographs that have ever been made – Martha Graham never looked so good. The jerks and spasms of Longo's subjects have an elegance and grace that is entirely unexpected; protective reactions and exaggerated gestures have been turned into effortless and authentic choreography, a ballet of falls and stumbles, leaps and trips. While the business suits and skirts have a retro film noir look, the movements are fresh and vital, full of energy and life, even when they mockingly portray the agonizing arrival of a bullet to the chest or a fist to the jaw. Thirty years in the drawer have failed to dampen the impact of these "death dance" pictures – they document an essence of human motion, boiled down to pure expression.
Collector's POV: Robert Longo is represented in New York by Metro Pictures (here). Digital prints of these photographs were produced in 2009, but they have yet to reach the secondary markets; as such, gallery retail is really the only option for interested collectors at this point.
Transit Hub: