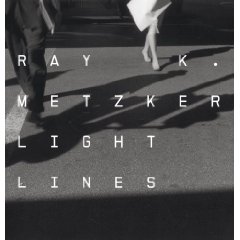 JTF (just the facts): Published in 2008 by Steidl in conjunction with a retrospective exhibition of Metzker's work held at the Musée de l'Eysée, Lausanne. 288 pages, including 245 black and white images. With an essay by William Ewing, a transcript of Metzker in conversation with Nathalie Herschdorfer and a chronology.
Comments/Context: In the history of photography, there have been few artists who have photographed (and printed) black as well as Ray K. Metzker. This claim may sound ridiculous given the huge number of photographers who have worked in the medium of the gelatin silver print over the past century or so, but one look at this fine retrospective monograph of Metzker's 50 year career as a photographer should be enough to make a persuasive argument that he took black places others could only dream about.
Almost from the very beginning, Metzker's work has been defined by shadows and low light situations, where black becomes the dominant color, both the primary graphical element and the backdrop. His blacks have a richness and depth, a crisp inky darkness used to make powerful contrasts. They are not washed out, fuzzy, or grainy; they are executed with breathtaking perfection.
Metzker first pointed his camera at the urban surfaces of the Chicago Loop, taking formal pictures full of rhythm, repetition and pattern. Over the years that followed, in various locations from Europe and Philadelphia to Atlantic City and New Mexico, Metzker continued to deconstruct cities and their inhabitants. His images became increasingly complex, relying on meticulous darkroom manipulations (using multiple negatives) to create couplets, double frames, and dense composites. Fragments of pictures were seamlessly sewn together, juxtapositions creating surprising contrasts and interactions, all intensified by the ever present blacks. In the late 1970s, he added another layer of abstraction to these ideas, a fleeting glimpse of a blurred piece of white paper, in a series called Pictus Interruptus. Most recently, he has applied his aesthetic to more natural subjects, abstracted wispy trees and leaves, either unspoiled or placed in the context of the city.
This volume is a comprehensive, chronological look at an important photographer's entire output. It does an excellent job of telling the broader story of his approach, and includes a variety of work made since the Unknown Territory retrospective in 1984.
Collector's POV: Metzker is one of the artists we have wanted to add to our collection for a very long time. His work would fit perfectly into our city genre, and we are particularly fond of his multiple negative images and composites. While Callahan also did multiples, Metzker took this idea and transformed it into something altogether more complex and kinetic. In addition, Metzker's darkroom craftsmanship (and the amazing blacks and shadows) make his images ones that stand the test of repeated viewing quite well in our view.
Surprisingly, Metzker's work is not widely available in the secondary markets, and none of his best composites or double frames have come up for auction in several years, although we have seen a few in gallery group shows sprinkled here and there. So we're still looking for just the right one that we both fall in love with and can afford. Metzker is represented by Laurence Miller Gallery in New York (site here).
Read another review of this book at 5B4 (here)