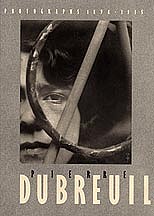 JTF (just the facts): Published in 1987 by Dubroni Press in conjunction with a retrospective exhibition at the Centre Georges Pompidou. 96 pages, with 53 black and white images. Includes essays by Alain Sayag and Tom Jacobsen, a checklist, and a chronology. (Cover shot at right, via Photo-Eye.)
Comments/Context: The photography of Pierre Dubreuil has always seemed to me to be the terrain of experts and connoisseurs. Until I ran across this thin exhibition catalog at the Strand recently, I had never seen anything written about him; this may be the only book on him that is readily available. My only real experience with his work has come at auction previews, where I have seen a few of his exquisite prints and marvelled at (and been somewhat perplexed by) their sky high prices.
Dubreuil was a lesser known French photographer who made a relatively small number of stunning pictures in the Pictorialist tradition around the turn of the century, and later became one of the pioneers of the movement toward Modernism. His compositions often incorporate an object in the foreground, disrupting our view and breaking up the image. He also experimented with close ups, cropped framing, and odd camera angles (bird's eye, worm's eye etc.), creating images that were wholly unlike the soft-focus painterly banality often associated with Pictorialism. Hints of Cubism and Surrealism also come through in certain pictures.
This book is extremely helpful in putting Dubreuil into a larger historical context. It also gathers together a wider assortment of work than I have seen anywhere else, thereby providing a deeper view into his artistic approach across his career. I think I now understand better why some collectors are paying big prices for his images: many are spectacular stand alone compositions and his work (like that of Strand and Stieglitz) provides an important bridge/transition between two distinct periods in the medium's history.
Collector's POV: The only gallery I could find with inventory of Dubreuil's work was Galerie zur Stockeregg (here). His prints have come up at auction more frequently in recent years, but there are still very few available. Prices have ranged from $30000 to well over $200000.
Transit Hub: While we normally provide some additional links for further study in this section, I was unable to find any meaningful articles about Dubreuil on the web. There are a few auction listings and simple bios, but surprisingly not much of substance. If readers know of interesting sources on Dubreuil, add them in the comments.