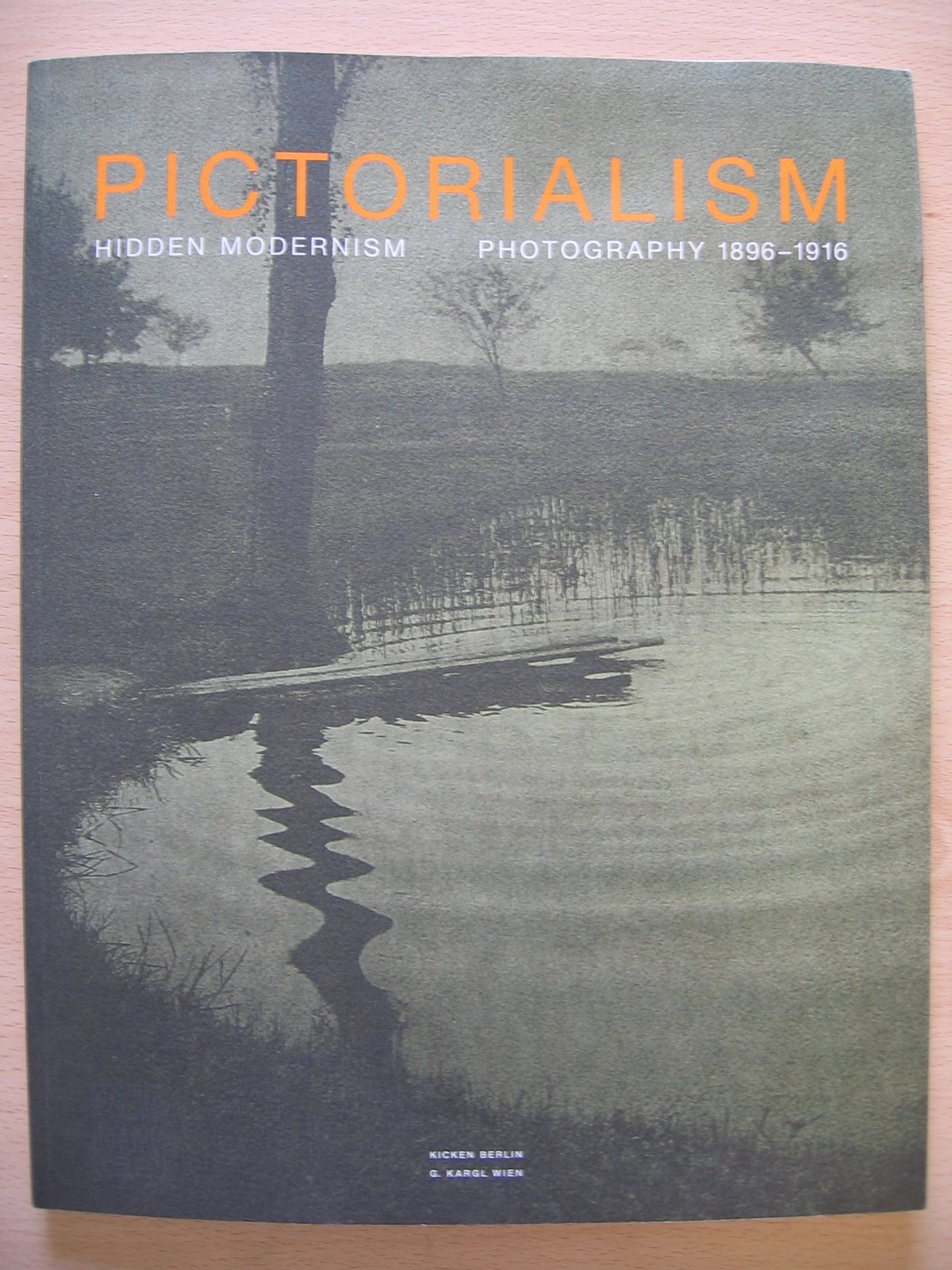 JTF (just the facts): Published in 2008 by Georg Kargl Fine Arts and Galerie Kicken Berlin, in advance of an exhibit on display now and running through March 14, 2009. 63 pages, including 43 images. Essays by Monika Faber, Wilfried Wiegand, and Elizabeth Pollock. (Poor cover shot at right.) Photographers represented include:
James Craig Annan
Robert Demachy
Hugo Erfurth
Frank Eugene
Hugo Henneberg
Theodor and Oskar Hofmeister
Gertrude Kasebier
Rudolf Koppitz
Heinrich Kuhn
Rupert Lovejoy
Elise Mahler
Karel Novak
Erwin Raupp
Edward Steichen
Alfred Stieglitz
Anton Josef Trcka
Hans Watzek
Clarence White
Comments/Context: As a collector, there is something truly wonderful about receiving an unexpected photo book in the mail. Gallery owners and dealers should be reminded that these small gestures really do build meaningful goodwill over time. Over the years, the folks at Kicken Berlin have sent us a few of their well produced catalogues, and we are always very thankful to be included. This slim volume arrived in time for the holidays and got us thinking about Pictorialism again in new ways.
To be perfectly honest, we haven't spent much time exploring Pictorialist photography, as most of the images we have been exposed to previously were of the soupy, soft-focus variety that were a mismatch with our particular collecting plan. And while Pictorialism was summarily discredited and almost entirely abandoned just after World War I, this exhibition shows that underneath the self-conscious workmanship of these images, the beginnings of more modernist sensibilities were indeed percolating.
The show itself is a superb primer on the entire movement, as it has strong examples from all of the major photographers of the times, covering a broad array of subject matter (domestic scenes, nudes, landscape and nature scenes, portraits, still lifes, and architectural studies). It also provides some excellent specimens of a variety of nearly obsolete photographic processes, including gum bichromate (in various colors), bromoil transfer, carbon, and platinum prints.
While we haven't seen the show in person, the reproductions in the catalogue are good enough for us to reconsider our previous view of Pictorialism a bit. There are some quite beautiful photographs here, where the interplay of special high quality papers and meticulous control of light sensitive materials have led to some exquisite objects. To our eye, among many terrific pictures, there is a fine nude by Heinrich Kuhn, and the zigzag of the reflected shadow in the cover image by Erwin Raupp is quietly wonderful.
Another takeaway concerns the relationship of Pictorialism to today's contemporary photography. Surprisingly, both the rediscovery of some of these antique processes by photographers who want to control their image making more directly and the new found freedom to manipulate images enabled by digital technology bring us back to some of the art-making ideas of this movement. Whether overt manipulation as a vehicle for creating new kinds of work will be more readily accepted the second time around remains to be seen, but it is interesting to consider some types of contemporary work through this historical lens.
Galerie Kicken Berlin's website can be found here.
Collector's POV: We don't currently have any images in our collection that would fall under the umbrella of Pictorialism, although we do have a handful of pictures from this time period which are a bit more modernist in their approach. Perhaps a perfect bridge picture in the Pictorialist mode will someday appear that will help fill our hole between the 19th and 20th centuries.