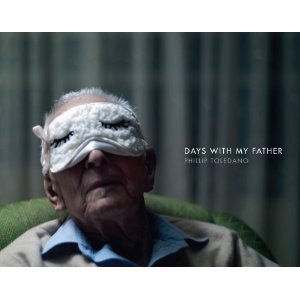 JTF (just the facts): Published in 2010 by PQ Blackwell (here) and Chronicle Books (here). 92 pages, with 45 color images. (Cover shot at right, via Amazon.)
Comments/Context: Phillip Toledano's Days With My Father is one of those rare photo projects that is perfectly suited to book form, where the sum of the parts ends up being significantly more than the individual pieces taken on their own. The combination of the images, the text, and the layout together creates something altogether more powerful than this humble volume might suggest on the surface.
In many ways, this is a classic story: a father at the end of his life, and a son trying to ask the questions that never got asked in all the preceding years. It's a tale of the mysteries and challenges of aging, the search for connection, the exposing of real selves, and the moments of tenderness and love that come full circle when the roles are reversed and the child takes care of the parent.
All of the images in this small book were taken in the father's sparse apartment, furnished with a single green upholstered chair, a few scattered tables, some gauzy curtains, and a bathroom with a tub and mirror. It's a small, bare space, simple and functional. Toledano's father is seen living his last days in this place, looking out windows, reading the paper, taking a bath, writing notes to himself, and telling stories. Most of the images are portraits, capturing the subtleties in the father's range of emotions, on both the good days and bad. There are parallels here to similar family projects by Larry Sultan, Doug DuBois, and Mitch Epstein (among many others I'm sure), but with an even more taut resonance and delicate intimacy.
Toledano's accompanying text is nearly as good as the pictures. It is unadorned and honest, eloquent in its openness and revealing in its common truths. While the pictures would have successfully stood on their own, the addition of the narrative makes the images even more moving and poignant, without becoming melodramatic or overdone. The sequencing adds highs and lows to the personal story, the emotional rollercoaster of discovering long hidden details, of moments of genuine laughter, and of the intense sorrow and helpless emptiness of seeing the parent slowly deteriorate and finally die.
In a world of staged and fabricated emotions, those on display here are sincere and authentic, and all the more real and memorable as a result. It isn't often that a group of pictures so expressively captures the universal heart-breaking moments of transition in our lives. While the word "page-turner" is usually reserved for fast-paced thrillers, I found this photography book to be as engrossing and enveloping as any mystery; once you get started, you won't be able to put it down.
Collector's POV: I first came across the works from this series at a group show at Hous Projects earlier this winter. At that time, digital c-prints, 12×16, in editions of 6, were priced at $1700 each. I don't believe Toledano has permanent gallery representation in New York, so interested collectors should likely follow up directly with the artist via his website.
Transit Hub: