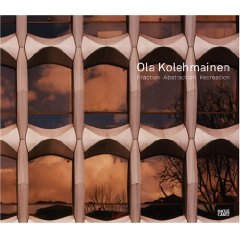 JTF (just the facts): Published in 2007 by Hatje Cantz. 108 pages, with 61 color images. Includes texts and essays by Martina Fuchs, Mark Gisbourne, and Timothy Persons. (Cover shot at right.)
Comments/Context: In the past few years, Scandinavian photography, and particularly that of the students of the so-called "Helsinki School" in Finland, have been getting some much deserved attention. Ola Kolehmainen is one such graduate of the University of Art and Design in Helsinki (TaiK) and has brought an unexpected Minimalist aesthetic to contemporary architectural photography.
Using the structured facades of contemporary buildings as raw material, Kolehmainen makes fragmented images of these grids and lattices (cropping out the sky and other environmental clues), capturing not only the strict geometrical order of the designs, but also the unexpected reflections and distortions that result from the use of mirrored glass surfaces. Clouds, trees, and nearby buildings all interact with abstract patterns to create compositions that juxtapose natural forms and hard edges. Both light and color also interact with these surfaces; think of them as additional tools the artist has to amplify or mute the serial variations.
There are plenty of direct and indirect echoes of artists like James Turrell, Robert Irwin, and Donald Judd in this body of work, but Kolehmainen is of course working in the two dimensions of photography, which imposes altogether different constraints. I think the best of these works fully abstract the subject matter into forms that are unrecognizable as documents of buildings; luscious patterns and eye catching colors, carefully controlled, pared down to something essential.
Collector's POV: Ola Kolehmainen is represented in New York by Bryce Wolkowitz Gallery (here) and in London by Purdy Hicks Gallery (here). Kolehmainen's works have only become available in the secondary markets in the past year or two, so no pricing pattern is yet discernible. For our particular collection, we again run into the issue of works that are too large; otherwise, these images would fit well with our other city/industrial pictures.
Transit Hub: