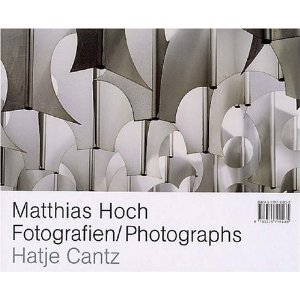 JTF (just the facts): Published in 2005 by Hatje Cantz (here). 136 pages, with 61 color and 12 black and white images. Includes essays in German and English by Jutta Penndorf, Harald Kunde, Thomas Seelig, and Sabine Maria Schmidt. The catalog was published in conjunction with an exhibition at the Lindenau-Museum Altenburg in 2005. (Cover shot at right, via Amazon.)
Comments/Context: German photographer Matthias Hoch takes a meticulous and disciplined approach to building facades and patterned interior details, finding sculptural qualities in the rhythms of structural functionality.
Rows of windows, layers of ceiling lights, angles of empty concrete fountains, and repetitions of balconies become exercises in shape and form, where ordered design and simple symmetry are transformed into abstractions of motif and systems of mathematics. His locations are everywhere and nowhere (parking garages, apartment buildings, roadways), anonymous mundane places found in any modern city, stripped of human inhabitants and filled with futuristic absence. His pictures are austere and logical, cool and controlled, taken in neutral light with an emphasis on clarity.
Thematically and stylistically, I think this work could easily be tied to that of Ola Kolehmainen or Julian Faulhaber. If you like your architectural photography to be formally precise and rigorously geometric, then Matthias Hoch will be a photographer worth discovering.
Collector's POV: Matthias Hoch is represented by Rena Bransten Gallery in San Francisco (here). Hoch's work has begun to become available in the secondary markets in recent years. Prices have ranged between $4000 and $7000, with most works printed in editions of 5.
Transit Hub:
Exhibition: Ludwig Forum, 2006 (here, in German)