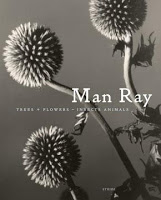 JTF (just the facts): Published in 2009 by Steidl (here). 370 pages, with 320 images and drawings. Includes a preface by the author (John Jacob) and an introduction by Merry Foresta. (Cover shot at right, via Amazon.)
Comments/Context: I think it is actually fairly common practice that after an artist/photographer dies, the estate is often quickly picked over in search of the remaining images that might be saleable to collectors, museums and the like. Once this cream has been skimmed off, it is often the case that hundreds if not thousands of less recognizable images remain, gathering dust in boxes, until the next person comes along who wants to dig through the archive with a fresh set of eyes.
This book is an excellent example of what can be rediscovered when someone applies some hard work, scholarship, and editing to a large body of "left over" images. The works in this volume were drawn from the Man Ray Trust and have been thoughtfully grouped and sequenced by subject matter. As the title indicates, there are not only Trees, Flowers, Insects and Animals, but also Landscapes, Landmarks, Churches, Castles, Bridges, Boats, Waterways, Waterworks, Hats, Masks, and Automobiles.
There are virtually no "greatest hits" in this book, although there are a few variant images of works that might be easily recognized. What is collected here is a broader collection of often unspectacular photographs that formed the raw material of his approach to art making. What emerges is an eclectic bunch of experiments and snapshots, ideas that were explored and then ultimately reworked or discarded, outtakes and documents of places visited and things seen.
While this might sound boring and thoroughly less than surreal or witty, in fact, seeing this selection of works helps to add some much needed depth and context to his better known and iconic images. Dozens of random portraits (including quite a few of people holding their dogs) help to fill in the gaps of how Man Ray was able to create so many memorable images of people in his career; he was constantly experimenting with poses, looks, and props, many of which didn't quite work, but obviously became the fodder for next shot down the line. There are lots of experiments with light and shadow in all forms, mixed with straightforward images of natural history specimens (butterflies and bugs, feathers and seahorses); both tell the story of an artist interested in underlying form and shape – it doesn't take much to see the connections to his Rayographs.
While many of the images here are entirely forgettable, after looking through the entire thick volume, I certainly felt like I had a better grasp of Man Ray's eye, and how he approached the making of his art. In many ways, I wish that many more master photographers would get this kind of archival exploration, as I think there is much to be learned from sifting through what has been overlooked. In any event, this book gets better with age; at first glance, its subtleties may be missed, but dig a little deeper and look a little closer, and the complexities and contradictions of Man Ray start to emerge.
Collector's POV: I have been unable to locate the official gallery representative of the Man Ray estate/trust. His photographs are however consistently available in the secondary markets. His most recognizable works (vintage Rayographs and iconic images like Noir et Blanche) are routinely priced between $100000 and $450000. Lesser known works and later prints can be as inexpensive as $3000-5000, with most of his better known work ranging between $10000 and $40000.
For our particular collection, many of the excellent floral still lifes in this book would fit perfectly into our existing genre. We already own one Man Ray flower (here, and illustrated on page 59 of the book), but could certainly imagine adding others (including the terrific cover image) if we could actually ever find them.
Transit Hub: