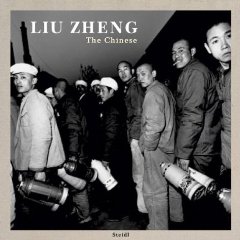 JTF (just the facts): Jointly published in 2004 by Steidl and ICP. 142 pages, with 130 black and white images. Includes an introduction by Christopher Phillips, essays by Gu Zheng and Liu Zheng, and an artist interview conducted by Meg Maggio.
Comments/Context: In the past few months, we have been doing some further background work on Chinese photography, in the hopes of developing a more nuanced and educated view of the contemporary photography being produced there. A few weeks ago, Ren Yue, a lecturer at Renmin University in Beijing who is spending a year here in New York, was nice enough to answer some of my simplistic questions. (In her spare time, she writes an influential photography blog (in Chinese, here), which is how we got connected.) We had a wide ranging discussion of artists and styles, and about the impact of the Western art market on Chinese photographers.
One topic we covered was the preponderance of Chinese clichés (Chairman Mao, rapid economic expansion etc.) in recent contemporary art from China. Given a smaller base of well established local photography collectors in China, it seems plausible that much of this newer photography is being conceived (to some degree) with Western audiences in mind, and thus the heavier use of forms and symbols that are easily recognizable by Western viewers. Clearly, such a sweeping generalization cannot encompass all of the new photography being made, but this concept resonated for me as a decent hypothesis to explain a proportion of the new work now finding its way to galleries and auctions here in New York.
Which brings us to Liu Zheng and his project, The Chinese, which is a potent example of the exception to this trend. We have owned this book for some time now, but I was reminded again of its importance during this recent discussion. Unlike the airbrushed and cleaned up perfection of the Olympic games, or of the larger body of more propaganda style imagery falling under the Socialist Realism umbrella, Liu set out on a seven year journey to make a more complicated and robust picture of the unofficial realities of the Chinese people and culture. What emerges is a darker alternate history of the past few decades, grittier and more subversive, with its fair share of outcasts and fringe elements, aging, disease, and death. With echoes of August Sander, Robert Frank and Diane Arbus, the body of work has the highly personal and individual feel of a long and arduous journey, a far cry from art produced to meet the fickle demands of the commercial market.
All of the images in the book are square format black and white, nearly all of them straight forward portraits, many taken with a flash, further heightening the contrasts and emotional resonance. Liu's subjects include rural coal miners, priests and monks, traditional opera performers and actors, beggars and drug dealers, hospital patients and waxworks dioramas (think Sugimoto), transvestites and corpses.
So while there are obvious references to the history of photography buried in these pictures, the images seem to me to be aimed mostly at Chinese viewers, rather than at Western audiences. Each image has a strong sense of narrative, of uncovering a hidden (and often far less than perfect) story worth hearing. While one might conclude that these images are overly judgmental or negative, perhaps they are better considered as a more even handed documentary cross section of the stories (many out on the margins) that have gone underreported for so many decades.
Collector's POV: Liu Zheng is represented in New York by Yossi Milo (here), and a show of prints from The Chinese was held there in 2005. The entire set of 120 images from the book is currently on display at the Williams College Museum of Art (here) in Williamstown, MA. Meg Maggio's gallery/consultancy, Pekin Fine Arts, in Beijing (here), has a broader array of Liu's work on view on her website, including many more recent projects. A small number of Liu's prints have begun to find their way into the secondary markets here in the US, but the numbers have been so small, it is hard to extrapolate any pricing pattern. While we aren't portrait collectors, Liu's excellent work would certainly provide a compelling contrast to works by Diane Arbus, August Sander, Malick Sidibé, Pieter Hugo (the Hyena Men) and Hiroh Kikai, not to mention broader parallels to photographers as diverse as Weegee, Lewis Hine and Nan Goldin.