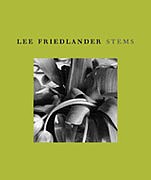 JTF (just the facts): Published in 2003 by Distributed Art Publishers (here). 96 pages with a total of 65 black and white images. Includes a short introductory essay by the artist. (Cover shot at right, via Photo Eye.)
Comments/Context: Over his long career, Lee Friedlander has made many superior photography books, but Stems is my favorite. Taken during the mid 1990s when Friedlander was nursing a pair of bad knees, this series captures still life images of various vases of cut flowers that his wife regularly placed in their home. In the recent history of floral photography, these images are among the very small number of truly innovative pictures of the subject matter made in the past decade.
As the title implies, Friedlander points his camera not at the showy blossoms, but at the clusters of intertwined stems and leaves, jammed into glass vases filled with water. Each flower type on display has its own stem characteristics: thorns for roses, serrated edges for burning bush twigs, smooth elegant tubular forms for tulips and lilies, and bushy leaves for daisies. The stems are then placed in a spectrum of glass containers, from short and round to tall and square, with swirled and shaped vases in between, the combination of glass and water creating a surprising number of visual effects: fogs and bubbles, distortions and exaggerations.
Freidlander's images have always had a signature chaos to them, a claustrophobic clustering of activity, intersecting planes and lines coming together in complex compositions. The stem still lifes are no different: the cut ends of the flowers fight each other for space in the constrained environment, creating thickets and layers of vertical lines, with broad leaves squished against the glass as contrast. Some of the vases are overfilled, choked with stems, while others have only a handful of stems or are even empty. By varying the viewing angle, Friedlander is able to use the reflections and distortions from the glass and water to further complicate the puzzle. In the end, the stems have been transformed from the boring, utilitarian end of the flower into something altogether more exciting: at once lush and luxurious, or harsh and threatening, but altogether original.
Collector's POV: Lee Friedlander is represented by Fraenkel Gallery in San Francisco (here). Very few images from the Stems series have come up for auction, so gallery retail is likely the best option for interested collectors. In our case, given the strength of the work presented here, several years ago, we purchased an image from Stems (here) for the floral genre of our collection. The book itself is a lavish and elegant publication, with beautiful reproductions on tactile paper; it is a master class lesson in book making.
Transit Hub: