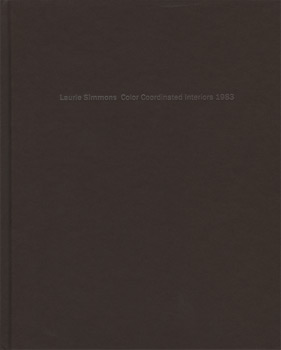 JTF (just the facts): Published in conjunction with a 2007 exhibition by Skarstedt Gallery (here) and Sperone Westwater (here). 56 pages, with a total of 21 color images. Includes an artist interview conducted by James Welling. All of the works in this volume are chromogenic c-prints, roughly sized between 25×25 to 60×45 or reverse, and were made between 1982 and 1983. (Cover shot at right, via Amazon.)
Comments/Context: I recently came across this thin catalog from a Laurie Simmons gallery exhibition that I missed a few years ago. The book documents one of her earlier, lesser known projects, where plastic dolls (from Japan, known as the "Teenettes") have been placed in front of various interiors scenes, which have been projected from behind. In each staged setting, the color of the dolls matches the colors of the room with a level of perfection that is altogether unnerving.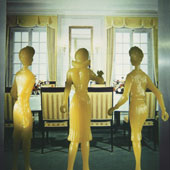 While the premise here is pretty straightforward, I found the resulting images to be both witty and powerful, with a Stepford Wives kind of satirical creepiness. Each room has an exacting perfection, an obsessive desire for things to be "just right", with strong ties to hard questions about traditional women's roles and ideals. Many of the rooms have a sterile, dated quality, a feeling that time has passed these people by, even though they are trying so hard to be current and beautiful. The gestures of the dolls made me want to invent some kind of back story or narrative for each picture, where the dining room or the kitchen is the setting for some small but unknown human drama. (Yellow Dining Room, 1983, at right, via the artist's website.)
In general, while Simmons' more recent images of houses, cakes, cameras and guns walking on doll legs might be more familiar to many collectors, I think these earlier works deserve attention as well, especially for their sly reflections on an impossibly controlled life that is both a paradise and a prison.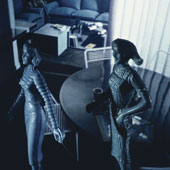 Collector's POV:
Laurie Simmons is represented by
Skarstedt
Gallery (
here
) and Carolina
Nitsch
Contemporary Art (
here
) in New York. Her photographs have become more readily available in the secondary markets in recent years. Prices have ranged between $1000 and $96000, with a sweet spot between $8000 and $15000, consistently rising over time. (
Blue Den,
1983, at right, via the artist's website.)
Transit Hub: