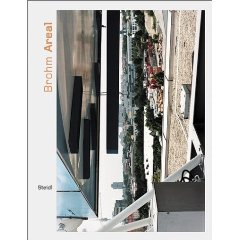 JTF (just the facts): Published in 2002 by Steidl (here). 265 pages, with 206 color images. Includes essays in English and German by Urs Stahel and Regina Bittner. The images in the book were taken between 1992 and 2002. (Cover shot at right, via Amazon.)
Comments/Context: In the past few decades, cities all over the world have worked to transform themselves, clearing away their old industrial infrastructure in favor of new business parks and planned communities designed for the knowledge economy. German photographer Joachim Brohm has been a careful witness to one of these slow moving redevelopment projects (on the periphery a German city), documenting the unspectacular evolution of the site across many years, through all its ugly intermediate stages.
While there are certainly plenty of stand out images in this volume, this body of work is better thought of as an extended essay, where the images work together to tell a multi-faceted layered narrative. The chronological sequencing of the pictures leads to a meditative flow of time, where the site is slowly redefined, from its original function, through demolition and clearing, to the first stages of its eventual reconstruction. Each image is a small piece of the larger puzzle, a captured fragment of what happened along the way. There is no obvious beginning or end to this project, no ground breaking or champagne ribbon cutting; instead, the process seems to drag on (the seasons pass again and again), with inertia as the driving force, and the completion of small tasks as the activity. Progress is slowly made, and at the end, the buildings look mostly completed, although most are still covered by plastic sheeting or scaffolding, the small details still unfinished.
.
Brohm's images are a mixture of bird's eye views (presumably from nearby buildings) and deadpan frontal shots at ground level; his subjects are trucks and back lots, sheds and temporary structures, discarded items and construction rubble, an unspecific view of a generic process that could be happening almost anywhere (and is). He comes back to the same locations time and again, the same diamond shaped blue clock often hovering somewhere in the distance. His compositions are dense, often disorienting, with echoes of Lee Friedlander's all over chaos.
If you pick this book up and flip through it in a hurry, I think there is a good chance you'll miss the subtleties of Brohm's approach; it will look like a grab bag of snap shots from the faceless construction project just down the road from where you live. Given some time however, the complexities of the individual images will start to reveal themselves and the story he's telling will resonate much more profoundly. The more I look at this book, the more impressed I am with its contents.
Collector's POV: Joachim Brohm is represented by Gallery Luisotti in Santa Monica, CA (here, on artnet) and Galerie Michael Wiesehöfer in Cologne (here). Brohm's work has recently become more available in the secondary markets, particularly at Van Ham. Images from Areal are Fuji Crystal archive prints made in 2002, in editions of 11; prices have generally been under $2500. It appears that prints from other projects were made in editions of 8 or 12; they too have sold in this affordable range.
Transit Hub: