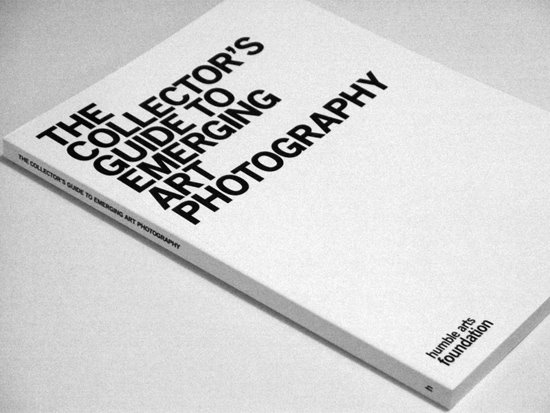 JTF (just the facts): Published in 2008 by the Humble Arts Foundation. Large format book, soft bound, with 176 pages. Curated by Alana Celii, Jon Feinstein, and Grant Willing. Each of the 163 artists (or pairs of artists) is represented by a single large image and contact information. Includes a curatorial statement by Jon Feinstein and an introduction by Ruben Natal-San Miguel (a collector and blogger at ARTmostfierce).
Comments/Context: While most photography collectors, curators, auction house specialists, and art critics spend virtually all of their time and energy focused on artists that have some kind of credible gallery representation, the harsh reality is that 99+% of photographers out there aren't represented by a reputable gallery or dealer anywhere, much less in New York or London. And while photography became a broadly democratic medium a long time ago, the recent transition to digital imaging has made picture making and sharing even easier, touching off an explosion of new photography over the past few years.
Contrast this with the current state of the retail gallery world and the mismatch becomes clear. Given the challenges of a poor economy, the overall number of operating "bricks and mortar" galleries is generally flat, with some galleries expanding while others are failing. Finding new representation is therefore almost a zero sum game – someone likely has to fall off the list to make room for a new addition; the aggregate "shelf space" is effectively fixed. The prospects for new photographers trying to break in are dim at best.
Of course, the art world is a unique beast. Can you imagine U2 deciding to sell its music through a handful of tiny retail outlets in dodgy neighborhoods? Or Dan Brown selling his newest thriller via a single storefront? Of course not, and yet, this is the distribution model that most artists are killing themselves trying to find.
While gallery owners often complain about the "overwhelming" "deluge" of solicitations they receive and the challenges of responding to each and every one, the reality is having good "deal flow" (access to the best new artists that come along) is the key to a sustainable business, and smart dealers (especially those focused on emerging work) invest time in their networks and build systems for reviewing each portfolio with honest care and attention, ensuring that the artist feels genuinely respected and helped, as a positive experience leads to more deal flow down the road. Given that each gallery has a different vision of what will sell and what is important over a long time scale, the trick is to sift through literally hundreds in search of the one or two that fit the program as envisioned.
Silicon Valley venture capitalists work in much the same manner, looking for the needle (the next Google) in a haystack (a massive pile of marginal business plans), and often finding ways to get pre-screened deals (from known sources, feeder funds, and high quality referrals), where the bottom two thirds have already been cut away, leaving a smaller and higher quality pile that can then be reviewed with more attention.
In many ways, this is exactly what the folks at the Humble Arts Foundation are doing with the collection of emerging photographers in this book: taking the role of triage nurse or venture capitalist, with the idea that the filtered list they generate will have a higher percentage of signal to noise, and that professionals in the industry can use the book as a resource guide and hopefully sidestep some of the time consuming sorting of an ever growing population of aspiring photographers. If their hit rate (artists in the book finding solid gallery representation over time) is better than 1 out of 10, they'll be doing better than most Silicon Valley technology VCs.
To me, this reference book seems like an intermediate step on the way to something much bigger and more transformational. Today, this is a physical book, sent through the mail to a select group of hand picked insiders. While the world of photography is indeed small, this seems like a very 1980s mindset. Instead, it seems like a logical extension to take advantage of the Internet technologies at our disposal to do something much more powerful. Given that the cost of storage is effectively zero, think of these extensions:
Put profiles of the all the artists onto a searchable website
Make the review process a systematic and constant effort, rather than every few years
Add 100 or 200 or however many new photographers that meet the standards threshold every year, rather than every few years
Sort the emerging photographers into some sort of taxonomy to make it easier for dealers, collectors and curators to find potential matches
Feature a dozen pictures by each featured artist instead of just one
Add live links to the artist websites
The goal is to become the "filter" of choice for galleries and emerging photographers alike. Sure, it's a bunch of work, but there are literally dozens of ways to take the simple idea embodied in this resource book to the next level. (Chris Anderson's The Long Tail (here) would be a good place to get some ideas.)
The danger of a volume like this one is that it quickly becomes a quaint set piece of "what photography was like in 2008". And I will admit that on the whole, there does seem to be a heavy dose of deadpan introspection in this collection; there are plenty of quiet personal moments that seem derivative of Alec Soth and Wolfgang Tillmans. What I didn't find, and think is out there, is a staggering diversity of approaches and styles that we haven't seen before. While it is true that emerging photographers are still refining their voices and may not have it all figured out yet, a book like this should blow my hair back and explode in my hands, sizzling with electric new ideas; the point after all is to do something different. I'm sorry to say I didn't need fire proof gloves to hold this collection, but I think there is the nugget of a great idea buried in these pages.
Collector's POV: Since we are collectors, it seems only fair that we should take a stab at picking some winners from our particular perch. Unfortunately for us, much of the work here doesn't fit our specific collecting themes, and therefore wouldn't be a great fit for our walls; many subjects that were of interest to earlier photographers (and that we collect) seem to have lost their relevance for contemporary artists. That said, based on the single image presented in the book (a crazy premise we know), here are 10 photographers that we think have a better than average chance for longer term success. What we were looking for was a combination of a unique/authentic point of view and that elusive "timelessness", a picture (or overall vision brought forth in a larger body of work) that might still hold its power a decade or two on. Here's the list (in alphabetical order):
Robyn Cumming (here)
Amy Elkins (here)
Molly Landreth (here)
Shane Lavalette (here)
Alejandra Laviada (here)
Eric Percher (here)
Friederike Von Rauch (here)
Nadine Rovner (here)
Amy Stein (here)
Jeongmee Yoon (here)
Collecting is of course a personal process, and it seems obvious that others might flip through this volume and select an entirely different group of potential survivors. This is the critical takeaway I think: diversity is a good (and natural) thing. Part of the reason I believe the auction houses fared so well during the recent boom was that they were offering a further democratization of a relatively closed art distribution system; they were following the natural flow toward more choice in the right direction. There is no reason that this curated approach by Humble Arts couldn't be expanded to 1000 photographers, broadening the scope even further; if they did it right, just think of what a powerhouse in emerging photography it could become.
Transit Hub: