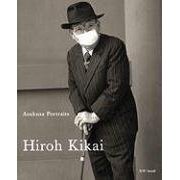 JTF (just the facts): Published in 2008 by ICP and Steidl. 264 pages, with 231 full page black and white images, essays by Christopher Phillips, Hiromichi Hosoma, and Hiroh Kikai, and an interview with the artist by Noriko Fuku. (Cover image at right.)
.
Comments/Context:
Japanese photographer
Hiroh
Kikai
has been making unassuming portraits of the patrons of the
Sensoji
Temple in
Asakusa
for nearly thirty years. We first saw
Kikai's
work in the
Heavy Light
group show of Japanese photography at the
ICP
last year (review
here
) and then followed up with a visit to a small show of his Tokyo city scenes at Yancey Richardson (review
here
). This book is a thick catalogue of the
Asakusa
portraits, with enough girth to give you a full measure of this project.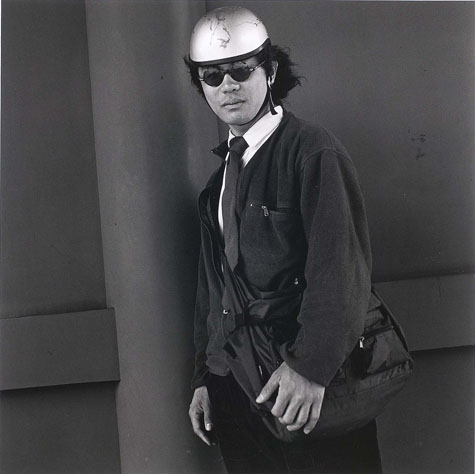 The set up of the each of the portraits is virtually identical: a three quarter black and white shot, against the
vermilion
walls of the temple, in natural light, generally
unposed
and informal. These are comfortable pictures, respectful and attentive to the sitters, patient and sometimes poignant. (
A maintenance man for commercial dishwashers
, 2002, at right.)
Kikai comes at his art from the humanist perspective, valuing the individuality of his subjects and trying to quietly uncover their singular stories, essential traits, and personalities. He has said that he was initially influenced by the work of Diane Arbus, and some of Arbus' willingness to meet her subjects on their own terms can be found in Kikai's images as well. (A performer of Butoh dance, 2001, at right below.)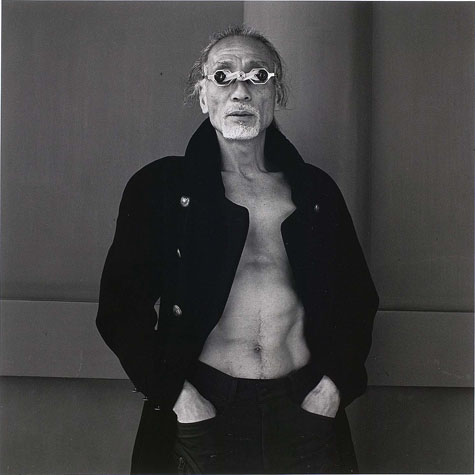 Kikai has also been a writer in his career, and the titles to his images read like sparse poetry. I've selected a group of image titles from the book and repeated them below. Read them slowly, with a pause after each one:
An old man wearing woolen long johns
A man who asked me if I'd buy a watch
A woman who said she bought lottery tickets
A man who came a long way to eat eel
A woman who often suffers from heartburn
A maker of traditional Japanese confectionery
A woman who said her eyes were dry
A man wearing four watches
A man playing a tune he composed himself
A man who said he'd just had a drunken quarrel
A retired craftsman who said that when he goes out he blackens his hair with indelible ink
A driver who can't work as he once caused a traffic accident
An old man using a wooden sword as a walking stick
A man who'd had a dream at daybreak, for the first time in ages
A man raising tropical fish
An old man who was speaking to a doll while he was walking
A man sweating under layers of women's clothing
A man who asked if I knew Humphrey Bogart
A factory worker who said that dancing in amateur variety halls was what gave his life meaning
A man who dresses his cat in lace
A man who said he used to be a carpenter, but not a good one
A man in a coat he said was made from the pelts of twenty-eight raccoons
A man who used to act in crowd scenes in samurai movies
A polite young man who powders his hands
A man with a python skin wallet
A woman who told me her son was the number one barber in Japan
There are, of course, hundreds more in the book, but I think the list above gives you a feel for his approach. What is perhaps most surprising is that while all of the people in the pictures are Japanese, the portraits seem to transcend their nationality or ethnicity; they are simply portraits of people, and insightful and memorable ones at that. Taken as a whole, this body of work is a tremendous success, and one that should help to bring his artistic accomplishments out of relative obscurity.
Collector's POV:
Kikai
is represented in New York by Yancey Richardson (
here
), in a relatively new relationship I believe. His work is to date unavailable in the secondary markets.
This book was selected as one of the Best Books of 2008 by Conscientious (
here
).