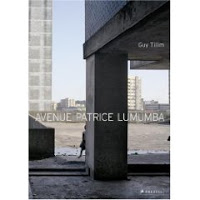 JTF (just the facts): Published in 2008 by Prestel (here) in association with the Peabody Museum of Archaeology and Ethnology, Harvard University. 128 pages, with 60 color images, each a two page spread. Includes essays by Robert Gardner and the artist. All of the images were taken in 2007 and 2008. Locations include the DR Congo, Ghana, Angola, Mozambique, and Madagascar. (Cover shot at right, via Photo Eye.)
Comments/Context: Patrice Lumumba was the first elected Prime Minister of the Democratic Republic of Congo after it gained its independence from Belgium in 1960. Only a few months later, he was deposed in a coup and assassinated, but his nationalist dreams have lived on a number of African states, where his name adorns streets, buildings, and other monuments.
South African photographer Guy Tillim has been documenting the complex environment of post-colonial Africa for more than two decades, successfully bridging the worlds of photojournalism and fine art. This recent body of work focuses on the everyday life in a handful of African nations, as embodied by the decaying Modernist buildings left over from the late colonial times and their reuse by the current population.
What were once optimistic, clean lined concrete boxes, with geometric patterns and fancy grillwork, are now aging administration buildings and apartment blocks, covered in water damage and pollution stains, peeling paint, broken windows and rotting concrete. Stunted trees and weed strewn scrub are all that remain of the tidy landscapes; roadways are cracked and unmaintained. Toppled and beheaded statues lie forgotten in empty courtyards. Hotel swimming pools are overgrown and abandoned. Laundry flutters from Modernist adornments.
Inside, shadowy bare rooms have become simple offices with cast off, mismatched furniture, workers processing paperwork using antique typewriters and rubber stamps; papers and files have been stacked in mountains. The colors are muted and washed out, the action slow and deliberate. People are seen from back, gazing out of upper floor windows. Bright, pure light floods into the worn rooms and buildings. Simple surfaces like the dented top of a wooden desk or the chipped layers of paint on the edge of a door frame have become stories of their own.
These images are full of contrasts and juxtapositions, of what might have been and what has actually transpired. While it might be easy to see these images as discouraging or depressing, there is a quality of grace that Tillim has found amidst the rubble that makes these images rise into something altogether more poetic. The ravages of time are certainly in evidence, as are the hopes that didn't come true and the plans that didn't quite work out. In the end, these are quiet, contemplative pictures that powerfully chronicle what happens when the bright future doesn't actually take place.
Collector's POV: Guy Tillim is represented by Michael Stevenson Gallery in Cape Town (here). Tillim's work has not yet found its way into the secondary markets in any volume, so gallery retail will be the best/only option for follow up in the short term.
I think I first saw this body of work at Michael Stevenson's booth at the Armory earlier this year. Seeing it again in book form has increased my appreciation for the images; it's a terrific book and I think the meditative story is much fuller and more resonant when seen across a wider group of pictures.
Transit Hub: