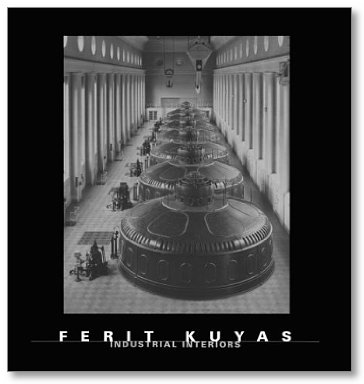 JTF (just the facts): Published in 1999 by Edition Stemmle. 120 pages, with 90 black and white images, sequenced in various sizes. All of the images were taken between 1989 and 1995. Includes a foreword by Hans-Peter Bärtschi, an essay by Benedikt Loderer, and an epilogue by the artist. Detailed location information is given for each plate. (Cover shot at right, via Photo-Eye.)
Comments/Context: For those of you that follow our photography conversation on a daily basis, it is likely obvious that we have recently been thinking quite a bit about the idea of multiple interpretations of the same image, digging deeper into how knowledge influences the emotions we ascribe to images. Perhaps this intellectual exercise has become a mini obsession, but I think the pictures in this book are yet another example of how the impact of a certain subject is significantly influenced by our understanding of its context.
If we look back at the history of industrial photography, I think the 1920's and 1930's can safely be called the golden age of this genre (no disrespect to the Bechers). Whether your particular favorites are Charles Sheeler, Margaret Bourke-White, Albert Renger–Patzsch or others, the collective mood of the industrial images of this period was one of power and confidence, a Modernist celebration of the heroism and romance of machinery. The optimism of this age infused the pictures with a patina of awe-inspiring excitement that remains vibrant almost a century later.
Ferit Kuyas' images of industrial interiors cover the exact same territory as his more famous predecessors: gargantuan machinery of all kinds (hydroelectric power plants, spinning mills, refuse incineration plants, metal working factories and breweries). There are turbines and engines, massive pipes and boilers, shop floors and gleaming duct work, all captured in pristine cleanliness and pure natural light. The difference here is that while the surfaces and textures of this equipment may still shine and glow, the fact is that these facilities have been mothballed, empty and abandoned for many years, entirely defunct in terms of any importance to society at large. We now live in the information age, and the industrial might of yesterday is now a forgotten relic.
These are extremely well crafted pictures, with careful compositions that highlight the many patterns and geometries found in this kind of machinery; there is a tactile richness to the tonal gradations that makes even the most mundane of equipment seem lusciously polished. And yet, even with all of this pictorial beauty, these images in the end represent faded glory, a sad and melancholy reminder of what was, not a majestic view of our future success. Their emptiness ultimately represents failure, not triumph. If we were to hang Margaret Bourke-White's image of the turbines of the Niagara Falls Power Company (here) right next to Kuyas' image of the generator hall of the Eglisau power plant, even though they were taken more than 60 years apart, they would have a remarkable, echoing similarity. And yet we see one as energetic and romantic, the other silent and crestfallen – a fascinating transformation over time.
Overall, I found this to be a thoughtfully executed set of modern industrial "portraits", with strong connections to some of the masterworks of the medium, well worth close consideration given our specific collecting approach.
Collector's POV: Ferit Kuyas is represented by Bau-Xi Photo in Toronto (here) and LUX Photo Gallery in Amsterdam (here). His work has not yet found its way to the secondary markets, so gallery retail is really the only option for interested collectors at this point. Collectors of industrial photography will find much to admire in Kuyas' work; any number of images from this monograph would fit nicely into our own collection.
Transit Hub: