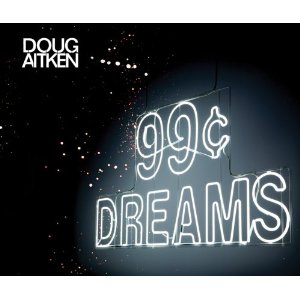 JTF (just the facts): Published in 2008 by Aspen Art Press (here). 216 pages, with a total of 273 color and black and white images. Includes a short introductory text by Heidi Zuckerman Jacobsen. The works in this volume were made between 1993 and 2007. (Cover shot at right, via Amazon.)
Comments/Context: Doug Aitken is probably best recognized as a talented video artist, a maker of large scale, multi-screen installations and environments. What is perhaps a little less well known is that he is also an accomplished photographer, using the still frame of the photograph to explore many of the same themes found in his videos and films. This hefty monograph collects a significant portion of his photographic output from the past decade and provides an effective introduction to his photographic aesthetic.
Taken together, Aitken's pictures have been edited down into an exercise in non-linear story telling, of taking a narrative thread in one direction, letting it morph into something adjacent, following a tangential idea and then doubling back, repeating and improvising on common ideas, ending up with a swirling, switch-backing set of vignettes and moments that coalesce into an overall description of a way of living and its many moods. It's hard to say exactly what these images are "about": perhaps they are about the dislocating effects of our frenetic, nomadic 21st century lifestyle, of how mind-numbing travel leads to isolation and loneliness, or of how we somehow find ourselves and the small fragments of wonder in the world, caught between something more memorable or important.
There are plenty of subjects and themes that come back again and again in this body of work: shadowy single figures silhouetted against windows, bright squint inducing light fixtures, empty waiting rooms, airplane portholes, anonymous hallways and darkened hotel suites, abandoned junk, people seen from the back, parking garages and bus stations, the detritus of our lives, and the quiet of twilight. Time seems to speed up and abruptly slow down in this story, leaving us trapped in a fog of jet-lagged, motion-sick melancholy, fixating on some detail for just long enough to see something a little surprising or unexpected before we are whisked forward to yet another disconnected, disorienting limbo zone.
While most of these images have a casual, snapshot aesthetic, there is a remarkable consistency of vision across more than a decade of Aitken's shooting. This is a book that has grown on me as I have looked at it again and again, the work revealing its secrets modestly and slowly, telling the story patiently as I tried to reconcile some of its seemingly more random inclusions. Not every image is by any means a stand out or would necessarily function well as a single, solitary photograph, but the careful sequencing of the pictures delivers something subtle but profound, a multi-layered portrait of a transitory, in-between world.
Collector's POV: Doug Aitken is represented by 303 Gallery in New York (here), Regen Projects in Los Angeles (here), Victoria Miro in London (here), and Galerie Eva Presenhuber in Zurich (here). His photographic work has become more consistently available in the secondary markets in recent seasons, with a handful of lots coming up for sale each year. Prices have ranged between $2000 and $55000, based roughly on physical size and the number of works in the edition.
Transit Hub: