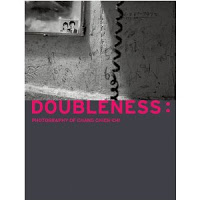 JTF (just the facts): Published by Editions Didier Millet (here) in conjunction with a 2008 mid-career survey exhibition at the National Gallery of Singapore (linked below). 80 pages, with a total of 59 black and white images. Includes a foreword by Lee Chor Lin and essays by Vicki Goldberg and Xiang Biao. The work in the catalogue is divided into three projects: 21 images from Double Happiness, 24 images from China Town and 14 images from The Chain. (Cover shot at right, via Amazon.)
Comments/Context: I think it would be overly easy to label the work of Magnum photographer Chang Chien-Chi as social documentary or photojournalism, to wrap his efforts up under the umbrella of "concerned photographer" and to therefore fail to see the powerful art that lies within his deft explorations of social bonds. Luckily, this slim volume seeks to deliver a deeper investigation of Chang's photography by gathering together images from three separate but surprisingly related projects/essays and providing a useful sampler for those who may be altogether unfamiliar with his work.
Double Happiness chronicles the complicated brokering of marriage matches between Taiwanese men and Vietnamese women. Using consistent framing and composition, Chang tracks each step of the transaction, from the superficial lineup where the women are chosen, to the bored counseling sessions, the anxieties of the visa application window, and the awkwardness of the final staged kisses. It's thoroughly painful to watch, knowing how unlikely that it is that these couples will ever find any kind of connection (remember, they don't even speak the same language); in fact, they already seem to know that they are trapped, resigned and numbed to their unhappy fates.
China Town comes at the idea of the marriage bond from a different angle. In these pictures, Chang follows men from Fuzou who leave their families and come to New York to earn money, living in ramshackle overcrowded dormitories and working anonymous menial jobs in Chinatown. He juxtaposes black and white images from their claustrophobic, chaotic rooms (where they lounge in the sweaty underwear dreaming of the future), with color images of their wives and children back home, who are waiting to be sent for. These families are divided by the circumstances of their lives, making separate sacrifices in an effort to improve their lot in life; some have not seen each other for years or even decades. These pictures have a sad poignancy to them, a crushing sense of the hard reality that is testing the hopes of these people.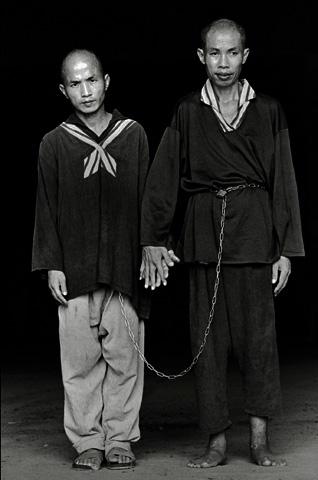 The final group of pictures, from a series called
The Chain
, is perhaps the most shocking and sobering. In these images, Chang has made straightforward portraits of pairs of mental patients at the Long Fa Tang Temple, where a stable patient is chained
together
with one with more severe problems in an unorthodox kind of bonding therapy. While the patients wear simple uniforms and stand quietly, the tiny nuances of their gestures and facial expressions tell volumes about their mental states and their relationships. More importantly, they ask hard questions about the nature of what it means to be sane, and about how we treat those with mental illness in human society. They are agonizing, unsettling, powerful, and unforgettable.
Overall, this is a consistently impressive body of work, both in its aesthetics and its underlying ideas, and one well worth exploring via this tightly edited exhibition catalogue. Chang Chien-Chi is clearly a photographer we should all be following more closely.
.
Collector's POV: Chang Chien-Chi appears to have neither permanent gallery representation in the US nor any meaningful secondary market history (please add information in the comments as appropriate). My guess is the only option for interested collectors is to follow up directly via Magnum to inquire about potential prints for sale. That said, I think that either a mini-retrospective/survey show or a focused exhibit of portraits from The Chain should to be undertaken by some gallery in New York, as this work clearly merits being shown more broadly in the world of contemporary photography. (The Chain #14, 1998, at right, via artnet.)
Transit Hub: