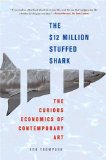 JTF (just the facts): Subtitled The Curious Economics of Contemporary Art. Published in 2008 by Palgrave Macmillan. 268 pages, with 18 color images in a center section. (Cover shot at right.)
Comments/Context: I recently decided to go back and read some of the "general interest" books written about the contemporary art market during its frothy height a year or so ago, prior to current the economic crisis. I was curious to see whether they had become dated almost immediately and how relevant they still were. These books are not about photography per se (in this particular case, photography is largely ignored) but given photography's increasing importance in the world of contemporary art, there are broad insights from these books that can be applied to the smaller niche of photography.
This book comes from the Freakonomics and Tipping Point school of recent nonfiction, where an economist peers into a small, self contained ecosystem and applies rational economic thought to the activity going on, often producing entertaining, cocktail party ready insights. In this book, Don Thompson takes aim at the mystifying machinations of the art world. Given a business bent (he teaches in the MBA program at York University in Toronto), Thompson resonates with a skeptical marketing driven explanation for the behavior of the art world, and highlights the importance of branding and hierarchy for all the various interconnected players.
In the diagram below, I have tried to synthesise the insights of this book down into a quick, visual form that can be more easily discussed (this picture is of my own design and not part of the book in any way).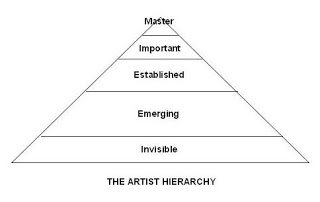 The argument being put forth is as follows. Artists, whether they like it or not, are sorted into a powerful hierarchy by the collective forces of the art world, and their careers are based on their trajectory up (and down) this ladder. The vast majority of artists (95%+) never make it out of the Invisible category. Of the ones that jump up into the Emerging category, it takes years of solid output and savvy marketing to graduate to the Established level, and again, most never make it and fall back down to Invisible over time. Moving up the ladder further to Important or Master takes a lifetime of work and successful branding.
In general, collectors are portrayed as insecure wealthy people who are looking for signals of quality from the other players in the contemporary market (context); they can't decide for themselves what is good, so they use "brand" as a proxy for quality, and follow the herd. Therefore, an artist's brand (rather than the work itself) becomes the driving force in the market (Damien Hirst and Jeff Koons as prime examples of this hype and celebrity driven approach).
Thompson goes on to place all of the other art market players (galleries/dealers, auction houses, museums, collectors, etc.) in this same branded hierarchy, all contributing to and influencing where an artist sits at any given time. Some explanation of the roles:
Larry Gagosian is put forth as the ultimate "branded" dealer. His brand is so strong that it raises the prices of his artists meaningfully, by effective replacing the artist's brand with his own. Collectors (and museums) see his stamp of approval and feel confident they are getting the highest quality. All dealers and galleries array themselves against the above artist hierarchy, some focusing only on the recognized masters, some grooming established artists, others searching out and exposing emerging artists to the outside world. All are trying to create their own brands that define their value in the food chain, to help make collectors feel more comfortable. Art fairs are the ultimate meat (and money) market, where the brands of the galleries collide.
Sotheby's and Christie's are seen as "branded" auction houses, where purchases at the high profile evening sales bring cache. The entire spectacle of the auction is designed to raise prices, but collectors use the events as ways to impress each other and draw on the brands of the houses (I bought this at Sotheby's or Christie's; it is therefore good). Again, a house like Phillips De Pury has placed itself in a different place on the hierarchy by selling the work of many more emerging artists.
Even big time collectors become "branded", thereby increasing their power in the market. Charles Saatchi, Steve Cohen, and Eli Broad are just three names (among many, many others) that drive the market. If a gallery can "place" a work in one of these collections, it raises the value of the artist's brand. These collectors becomes arbiters of taste for other collectors (and museums) and get first choice ("access") to new output; their selections are followed and repeated, driving prices up. Collectors too align themselves in different places in the hierarchy; many collectors who once chased the trophy lots (perhaps in search of recognition, fame or a quick speculative flip) move on to search for the best emerging work. If they have a good "eye", their brand value as collectors increases.
Museum brands are also vitally important to the underlying artist brand. A retrospective at the MoMA, Met or Tate Modern cements an artist's place in the hierarchy. A museum's stamp of legitimacy (whether via exhibit or a place in the permanent collection) does wonders for making collectors feel comfortable and for driving prices up (the lack of these hallmarks is also a sure signal of an artist either unknown or on the decline). While museum curators are for the most part independent thinkers, Thompson argues that the power of the branded galleries to influence the process of selecting which artists get what attention is too strong to underestimate.
Critics are deemed to have only a small contributing influence in this mix, generally drowned out by the more powerful influences of galleries, museums and collectors.
Thompson then lays across this playing field the subject of prices for individual works, which are influenced (up and down) by the behaviors of all these players and strengths of their relative brands, all contributing to the location of the artist in the hierarchy (with the assumption that price and location are related). Psychology, momentum, scarcity, and adjacent reference points all come together to set current prices, which often seem to have little relation to any definition of "value" or "quality".
This book is full of statistical tidbits and surprising numbers, trying to quantify what is inherently a subjective enterprise, and many of these are unexpected and insightful. It also does a good job of making more transparent the complex economic relationships between various players (going into detail on auction house guarantees, dealer/artist contracts, etc.). Overall, while the market has changed meaningfully due to the changing economic conditions, the book's main points are still relevant and persuasive.
Collector's POV: As collectors ourselves, I found much of Thompson's analysis to be generally on the mark, even if I do think that collectors at the top end of the contemporary market are not necessarily representative of the behavior of all the collectors down the food chain (like us) – as an example, I don't think people who collect emerging work are as influenced by others as those at the top; by definition, they are trying to make their own way and find their own winners. That said, this book certainly made me think about how brands influence our own activity as collectors, and to what extent those brands change the way we view the photographs we ultimately add to our collection. We like to think we make our decisions based on our own personal vision of the best of what is available. How much of that world view has been spun by great marketing all around us? That's a hard question, worth pondering.