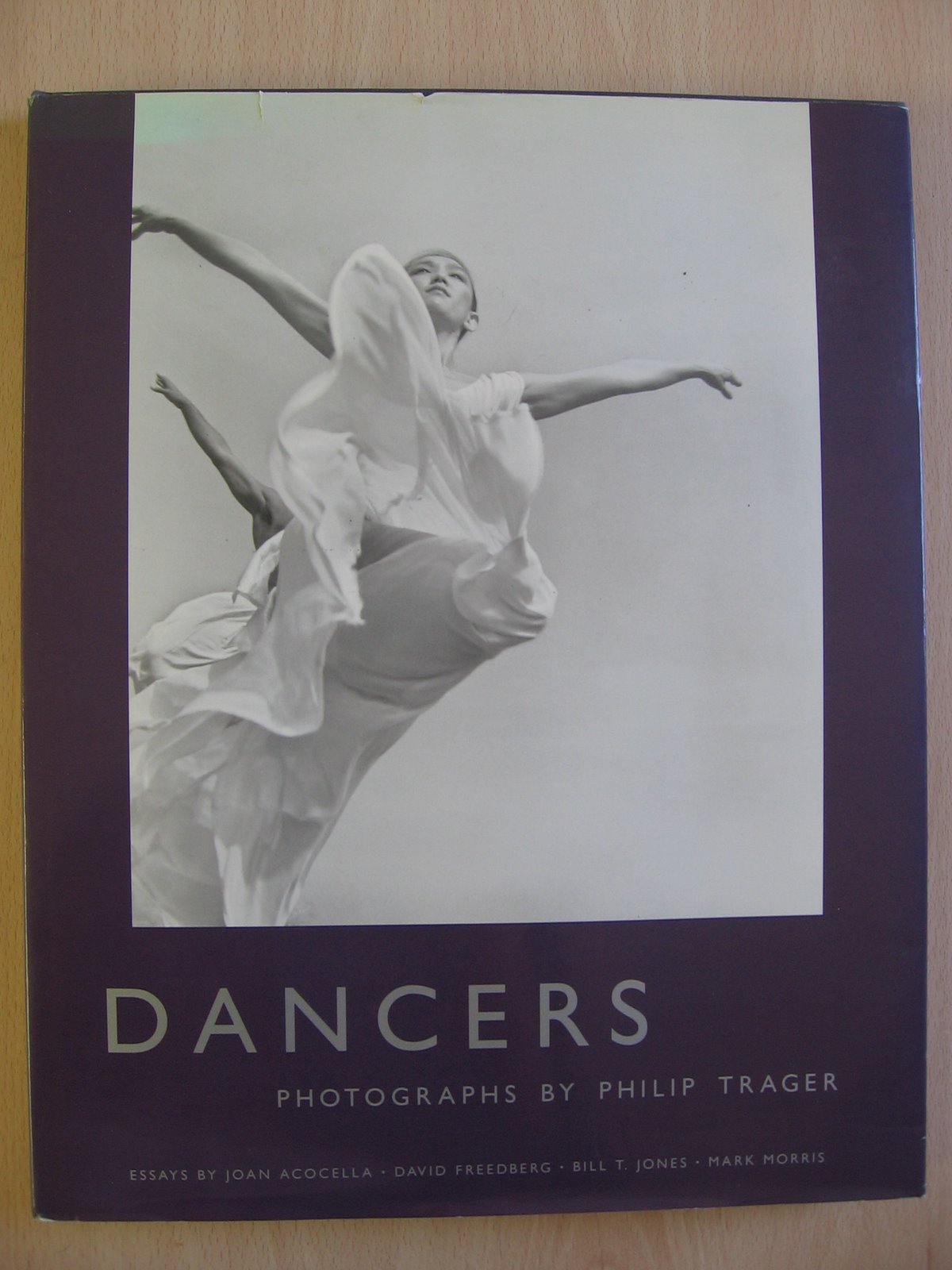 JTF (just the facts): Published in 1992 by Bullfinch Press. Includes 81 black and white images, with essays by Bill T. Jones, Joan Acocella, David Freedberg and Mark Morris. (Cover shot at right.)
Comments/Context: While New York is indeed a great place to see photography, it is also an amazing melting pot of modern dance. This past weekend, we took the whole family (including our elementary school aged kids) to see a performance by Pilobolus (site here), a dance company known for its jaw dropping athleticism. We enjoy a wide variety of modern dance, and try to take advantage of the broad array of styles that are regularly performed all over New York. My particular favorite is Mark Morris (site here); my wife's is Paul Taylor (site here), and we often catch any number of other companies at the Joyce Theater (site here), one of the great venues for modern dance in America.
The reason for this preamble is that I have been wanting to write about Philip Trager's spectacular book, Dancers, for several weeks now, but it somehow hadn't found its way to the top of the pile. Unlike the carefully lit, interior dance photography most collectors are familiar with (Barbara Morgan's iconic images of Martha Graham being perhaps the most easily recognizable), Trager made his pictures in natural light, out in the open air, on grassy hillsides and in wooded glades. The resulting images of over 35 different dance companies/choreographers take us beyond dance as a "production" and back to a more primal quality, of dance as an exuberant, living, emotional response to being human.
The book offers a glimpse of a wide spectrum of modern dance styles, from quiet and intimate solo dances, to the high energy, expressionistic movements of larger groups and ensembles, from classical beauty to unsettling avant garde. In these large pictures, Trager has captured the individuality of the various dancers, dramatically singling out particular gestures and movements that epitomize varying approaches to their collective craft. There are a great many truly beautiful photographs in this book; if you plan to own only one book of dance photography, this is the one you should have in your library. And by the way, you'll have to make room for it, as the book itself is nearly 16 inches high.
Collector's POV: Philip Trager's work is not particularly available in the secondary markets, and his longtime dealer, John Stevenson, recently closed up his retail presence, so I'm not at all certain who is representing Trager at this point or where to find prints if collectors are interested in following up. There are also several additional books by Trager which chronicle his well made photographs of the villas of Palladio and the architecture of Connecticut and New York.