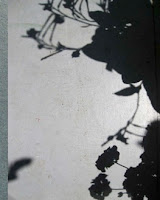 JTF (just the facts): Published in 2009 by steidlMACK (here). 104 pages, with 50 color plates. All of the works included were made between 2005 and 2008. There are no essays, texts, or captions. (Cover shot at right, via Amazon.)
Comments/Context: As collectors of floral imagery, we are always on the look out for contemporary photographers who are taking on the traditional floral still life in new ways. While Collier Schorr is likely better known for her masculine portraits of wrestlers and young men in military uniforms, for quite a few years now, she has been working on a project called Forests and Fields, where she has been documenting life (real and imagined) in the small German town of Schwabish Gmund; Blumen is the second volume in this series.
Schorr's florals are a perplexing mix of nature and artifice. Many of the images are staged out in rolling meadows of lush grasses and wildflowers, against skies that run the spectrum from clear blue to murky grey. Against this backdrop, she constructs strange temporary structures, made of thin sticks and string or fishing line, from which she suspends bright blooms which have been picked from nearby gardens. Like flies trapped in a spider web, the flowers are suspended in mid air, disconnected from the rest of their natural world, strung up in a mess of tangled wires.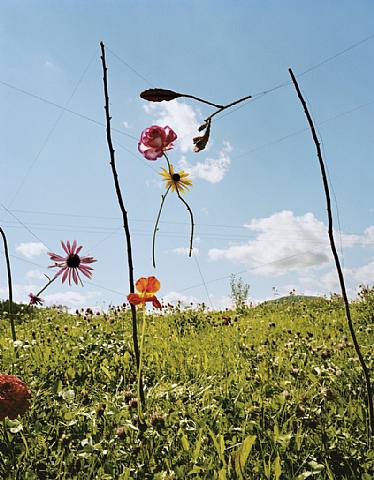 While these juxtapositions are
thoroughly
staged and arranged, there is something surprisingly odd and compelling about these compositions. The combination of exotic, boldly colored, cultivated blooms (roses, zinnias, cosmos, cacti etc.) with the simplicity of the natural landscape or a nondescript wall creates a sense of unease that is further deepened by the weird bondage of the cut flowers hanging from the string matrix. (
Arrangement #12 (Blumen),
2008, at right, via
artnet
.) There is an undercurrent of
Araki
or Mapplethorpe here, of ephemeral human control applied to the specific manipulation of the landscape. (Richard
Learoyd
also recently used a similar string contraption on a fish heart.) The images have a sense of heightened theater, of unexpected drama being created out of commonplace materials.
In many ways, these pictures don't fit any usual definition of a floral still life. And most of the other non-floral images in the volume continue this line of thinking. A jumble of tools, a plastic bucket with potatoes, a red backpack and a yellow plastic shopping bag, an overhead view of a grey floor, an astroturf tennis court, the shadows of geraniums, they all appear controlled, seemingly found abstractions, but perhaps not. As a result, the entire atmosphere of this book is a bit unnerving, where artificiality is cloaked in the normal.
In the end, I'm not sure that I am particularly moved by most of these floral constructions. That said, I certainly appreciate and applaud Schorr's willingness to do something original and radical to explore the boundaries of the form.
.
Collector's POV:
Collier
Schorr
is represented by 303 Gallery in New York (
here
), Modern Art in London (
here
), and
Galerie
Barbara Weiss in Berlin (
here
). It appears that the floral prints from
Blumen
are generally printed quite large (between 38×31 and 49×41) and often come in editions of 5.
Schorr's
works have only intermittently been available in the secondary markets. For those lots that have become available, prices have ranged between $4000 and $10000.
.
Transit Hub: