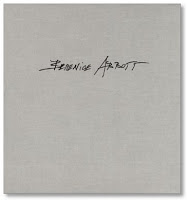 JTF (just the facts): Published in 2008 by Steidl (here). 2 volumes, in a cloth slipcase. Volume I is 264 pages, with 118 black and white images, and includes essay by Ron Kurtz and Hank O'Neal. Volume II is 316 pages with 151 black and white images. (Cover shot at right, via Photo Eye.)
Comments/Context: While we already own a long shelf full of books on Berenice Abbott, I had a feeling I knew what was in the wrapping paper when this monster thumped down in front of me at a recent birthday celebration. I have been not so secretly coveting this two volume set from afar since it came out, but I couldn't really ever justify buying it for myself, so I was overjoyed when the paper came off and I found this beauty underneath.
I think Berenice Abbott belongs at the top of the list of the most underrated master photographers. Sure, everyone has heard of her, has been amazed by her images of New York, and recognizes her as a pioneer. And yet she had a staggeringly consistent career over many decades, made iconic works in several subject matter genres, developed many important technical innovations and inventions, and nearly single handedly created the legacy of Eugene Atget in her spare time. She was a crusty, outspoken, pain in the ass who summarily rejected the influence of Stieglitz and went her own way, thumbing her nose at the ridiculous photography establishment (her view) in the process. As a result, she had to struggle to make her art for nearly her entire life, and only found commercial success in her last years when she had effectively retired from picture making.
I've talked to quite a few collectors who have followed a similar path to ours with regard to Abbott's work. When we first started collecting, her famous New York pictures mesmerized us, but after immersing ourselves in them for a few years, we began to wander off to other artists who seemed more exciting or innovative. And yet, we now find ourselves circling back to Abbott, perhaps understanding her pictures a bit better with time, digging deeper into her body of work and finding satisfying images of all kinds that are less well known or overexposed. This set of books therefore comes at a perfect moment for us, as we have a renewed interest in the nooks and crannies of her output.
Most of the books on Abbott suffer from lackluster quality: cheap paper and bindings, uninspired and dated printing etc. These books however bear the hallmarks of top class contemporary publishing: beautiful tritone images on silky paper (one to a page), cloth bound books with tipped in images on the covers, and a sturdy slipcase. The first volume gathers together her portraits (mostly from the 1920s and 1930s, but a few from later years as well), her shots of rural and roadside America (including her Route 1 series and her late images of Maine), and her scientific pictures. The second volume covers her work in New York, both from Changing New York and after.
So while we have seen the vast majority of these images before (and own a few to boot
here
), the printing in these volumes is so much better than anything else on Abbott that the pictures seem wholly fresh and new; it isn't a
catalog raisonne
, but it's as close as we're likely to ever see for her work. So for you Abbott collectors out there who have been waiting to buy this set, I can say with some conviction that once you acquire this pair, you will abandon the rest of your Abbott library (with the exception of
Changing New York
itself) and use it exclusively as your definitive reference on the artist.
Collector's POV:
The estate of Berenice Abbott is represented by Commerce Graphics in New York (
here
). Her work is
routinely
available at auction, with often as many as 100 of her prints (a mix of vintage and later) coming up for sale in any given year. Prices range from as low as $1000 to approximately $35000, with the majority still under $5000. Her iconic, vintage New York works and a few celebrated portraits (James Joyce etc.) come out at the top of the range, but many secondary and tertiary vintage New York images are still very affordable, as are prints from most of her other projects; a large number of later prints and portfolio prints swirling around in the market have also helped to depress prices.
Transit Hub: