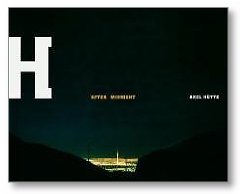 JTF (just the facts): Published in 2006 by Schirmer/Mosel and Waddington Galleries. 56 pages, with 21 color images. Includes an essay by Martin Filler. (Cover shot at right.)
Comments/Context: Of the now famous group of Becher students, Axel Hütte has always been the least accessible for us, likely because he has focused much of his work on carefully composed people-less landscapes (jungles, caves, glaciers, fires etc. from exotic locales around the world), a subject matter genre that unfortunately doesn't match well with our particular collecting activities and interests. In recent years, Hütte has also begun to make wall sized nighttime images of sprawling cities and towering skyscrapers, and so this collection of nocturnal views of American cities seemed like a better entry point for us.
In this volume, Hütte has taken images in ten cities across America, often making long panoramic views of the carpet of lights from his upper floor hotel room. In other pictures, he uses an adjacent building as an anchor in the foreground of the shot or simply captures a cluster of nearby highrises. All of the images have an atmosphere of emptiness and distance, with exterior building lights and reflections often painting the town in garish color.
In general, these images left me cold, and upon further reflection, I think that's the point. Regardless of which city is depicted, there are virtually no unique identifiers; they all look generally the same (well lit tall boxes), empty of people and life. In our efforts to build cities that are "modern", we seem to have left out any indicators of our culture or personality. It is not so much that these works are overtly negative; they're not. But what I took away was that Hütte was holding up a mirror to how we are building our American urban environments and communities, and I didn't particularly like what I saw.
Collector's POV: Axel Hütte is represented in London by Waddington Galleries (here), but seems not to have any consistent New York representation. His works have become more available at auction in recent years, with mural sized prints in editions of 3, 4, or 5 selling in a range between $10000 and $35000, and smaller prints in larger editions (25, 30, 100) selling for under $1000.
Transit Hub: