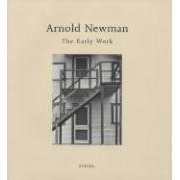 JTF (just the facts): Published by Steidl in 2008. 232 pages, including 107 black and white plates. Essays by Ron Kurtz, Howard Greenberg, and Philip Brookman. (Imperfect cover shot at right.)
Comments/Context: Odds are that the first thing most collectors remember about Arnold Newman is that he was a master portrait photographer. His images of Piet Mondrian in his studio, Albert Giacometti in front of his sculptures, and Igor Stravinsky at the piano (among many, many others) made him the father of "Environmental Portraiture", where subjects were photographed in the context of their lives, rather than pinned to monochrome surfaces like Penn or Avedon.
This book however chronicles the first five years of Newman's career as a photographer (1938-1942), when he was experimenting with documentary and abstract imagery (non-portraits). In these images, Newman arranges fragments into carefully composed formal structures of light and form, digesting the ideas of both Modernism and Cubism. There are also echoes of the Walker Evans of American Photographs, both in subject matter and approach, particularly in the more documentary pictures.
To our eyes, the images of walls and doors, ladders and light fixtures, clapboard houses and wood shacks compare well with Evans, Strand, and Steiner (who predate him), and inform early Siskind and Ralston Crawford (who came slightly later). This is a well crafted book of an excellent body of work, right in the wheelhouse of the kind of abstract city images we like for our collection.
Collector's POV:
Newman's early work isn't available much in the secondary markets, but his portraits are nearly always up for sale, fetching anywhere from $2000 to perhaps $20000, depending on the subject. Arnold Newman is represented by Howard
Greenberg
Gallery (
here
) and the estate is owned by Commerce Graphics (
here
).