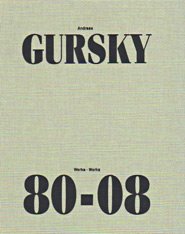 JTF (just the facts): Published in 2008 by Kunstmuseen Krefeld, Moderna Museet Stockholm, Vancouver Art Gallery, and Hatje Cantz. 272 pages, with 155 color images. Includes an essay by Martin Hentschel. (Cover image at right.)
Comments/Context: We already own two Gursky monographs: one from the 1998 Kunsthalle Dusseldorf show and another from the 2001 MoMA show. So why do we need another, you might ask? The reason is that this smaller volume is trying to do something different. Instead of being a large format, coffee table sized book with big, beautiful pictures, this monograph is the size of a hardback novel, and the pictures are printed much smaller; what's interesting is that there are many more of them, nearly twice as many as in either of the other books. While this isn't a catalog raissoné, and many of the thumbnail images fail to evoke the grandeur of their mural sized cousins, the deeper dive into Gursky's archives helps to tell a much fuller and more varied story about his evolution as an artist.
For quite a while now I have been wondering about the early work of the Becher students and how it shows the influence of their teaching style. An oversimplified definition of the Becher formula is as follows: 1.) choose a large subject, with lots of different potential examples, 2.) choose a consistent approach to picture making, 3.) take lots of pictures in this manner, and 4.) display some of them together (the "typology") to get at the underlying essence of the subject. How Gursky internalized this teaching (and how he eventually evolved it into his own personal vision) is clearly shown in this book. His first subjects were interiors of restaurants, and he soon moved on to desk attendants (pairs). If you've never seen these images, they have all the Becher hallmarks: cool detached, frontal viewpoint, uniform and meticulous view camera picture making. It's in Gursky's next series, the Sunday Walkers, where the rigidity of the formula starts to break down; the pictures are more fluid, still using a common theme, but allowing for more flexibility of vision.
In the next few years, Gursky started to make his first bird's eye view images, with tiny ant-like people dwarfed by the immense scale of their surroundings, the images still rigorous in their style, but now much less cookie cutter. By the time you get to the early 1990s, the Gursky that took the art world by storm is now in top form: extra large sized prints of far flung locales, where hotels, office buildings, industrial warehouses, raves and stock exchanges become metaphors for the spectacle of our anonymous contemporary lifestyle, minimalism and conceptualism merging (with the help of some digital manipulation) into something altogether new.
The reason I like this book is that many more patterns emerge when you see a larger sample of Gursky's images. Since most of his recent works are printed mural sized and have become so expensive, one hardly gets a chance to see more than one or two at any one time these days; it's hard to plot much of a line with only a couple of points. If you're interested in the broader trajectory of Gursky's career and want to place the themes and approaches he has come back to again and again in a larger context, this is a good book for your library. The exhibition should also be well worth a visit.
Collector's POV: Andreas Gursky is represented by Matthew Marks Gallery in New York (here). Gursky's large prints tend to be made in editions of 4, 5, or 6, and are routinely sold above $100000, ranging all the way up into the low millions of dollars. Smaller prints are often made in editions of 12, 25, 30 or even 60, which generally drives the prices down to a zone between $5000 and $50000.
Transit Hub:
The complete list of Gursky's contemporaries while studying with the Bechers: Candida Höfer, Axel Hütte, Tata Ronkholz, Thomas Ruff, Thomas Struth, and Petra Wunderlich
2001 MoMA exhibition (here)
Jerry Saltz: It's Boring at the Top, New York magazine, 2007 (here)
Video of Gursky exhibit at Kunstmuseum Basel (here)
2008 Matthew Marks show (DLK COLLECTION review here)
Upcoming 2009 Vancouver Art Gallery exhibit, in conjunction with this book (here)