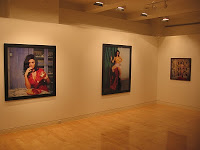 JTF (just the facts): A total of 17 large scale color photographs, alternately framed in thick black and brown with no mats, and hung in the entry, main and side galleries. Neither process information nor physical dimensions were given on the gallery checklist. The works were made between 1991 and 2005 and are available in editions of either 3 or 5. (Installation shots at right.)
Comments/Context: The portraits and nudes of Bettina Rheims are a potent cocktail of celebrity, fashion, and tangled hair naturalness. Her images capture strong female personalities (known and unknown) in a kind of Annie Leibovitz meets Helmut Newton aesthetic, bringing together direct confrontation and edgy voyeurism, with a twist of subtle French seduction.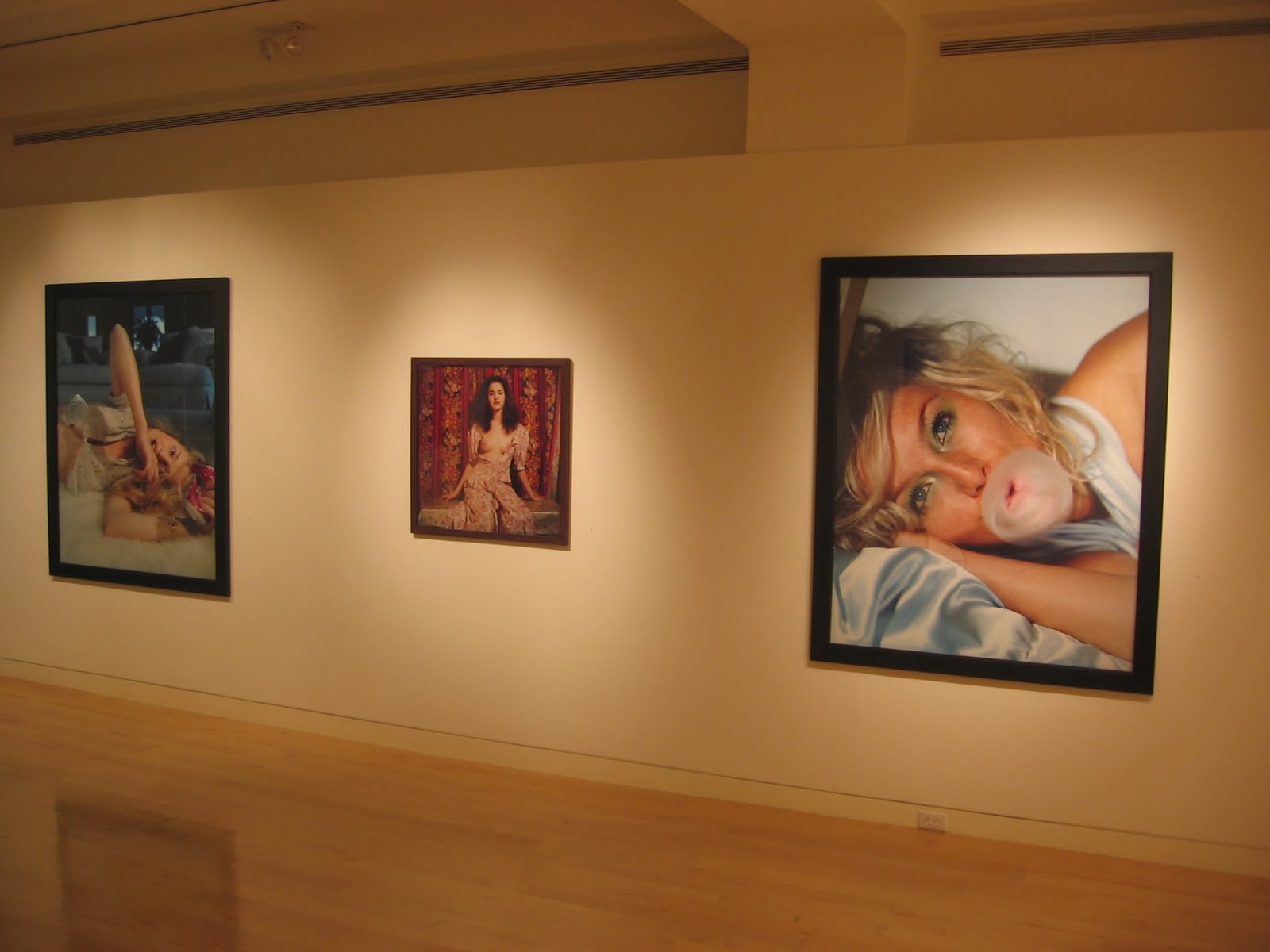 Her more commercial celebrity shots avoid obvious perfection, finding confident beauty in small staged moments: Monica Bellucci in a red shirt dress pouring ketchup on spaghetti (her jet black hair in a snarl), Marion Cotillard brazenly posing in lingerie and boots with a pool cue, model Anne Pedersen blowing a bubble while wearing green sparkly mascara around her intense blue eyes, and Heather Graham writhing on a white shag rug holding a crushed can of Tab. Rheims' glamour is messy and unkempt, bold and aggressive.
Her nudes are similarly disheveled, staged in flowery hotel rooms, but her quiet models display a more conflicted mix of emotional states. Reserved and demure partially clothed poses are punctuated with flashes of skin, taking ordinary scenes and amplifying their sexuality, the softly romantic settings becoming charged with surprising eroticism.
All of Rheims' images, even the most subtle and vulnerable, have a sense of unflinching defiance, of the women confidently taking on the gaze of whoever might be looking. As such, these pictures vigorously grab your attention, reversing the normal power of the viewer, forcing you into an interaction controlled by the self-assured subject on the wall.
Collector's POV:
The works in this show are priced at either $22000 or $32000 depending on size.
Rheims
' work has become quite a bit more available at auction in recent years, with a number of lots up for sale every year. Prices have ranged between $2000 and $45000, with celebrity
portraits
(particularly of Madonna) at the top of that range.
Rating:
* (one star) GOOD (rating system described
here
)
Transit Hub:
745 Fifth Avenue
New York, NY 10151