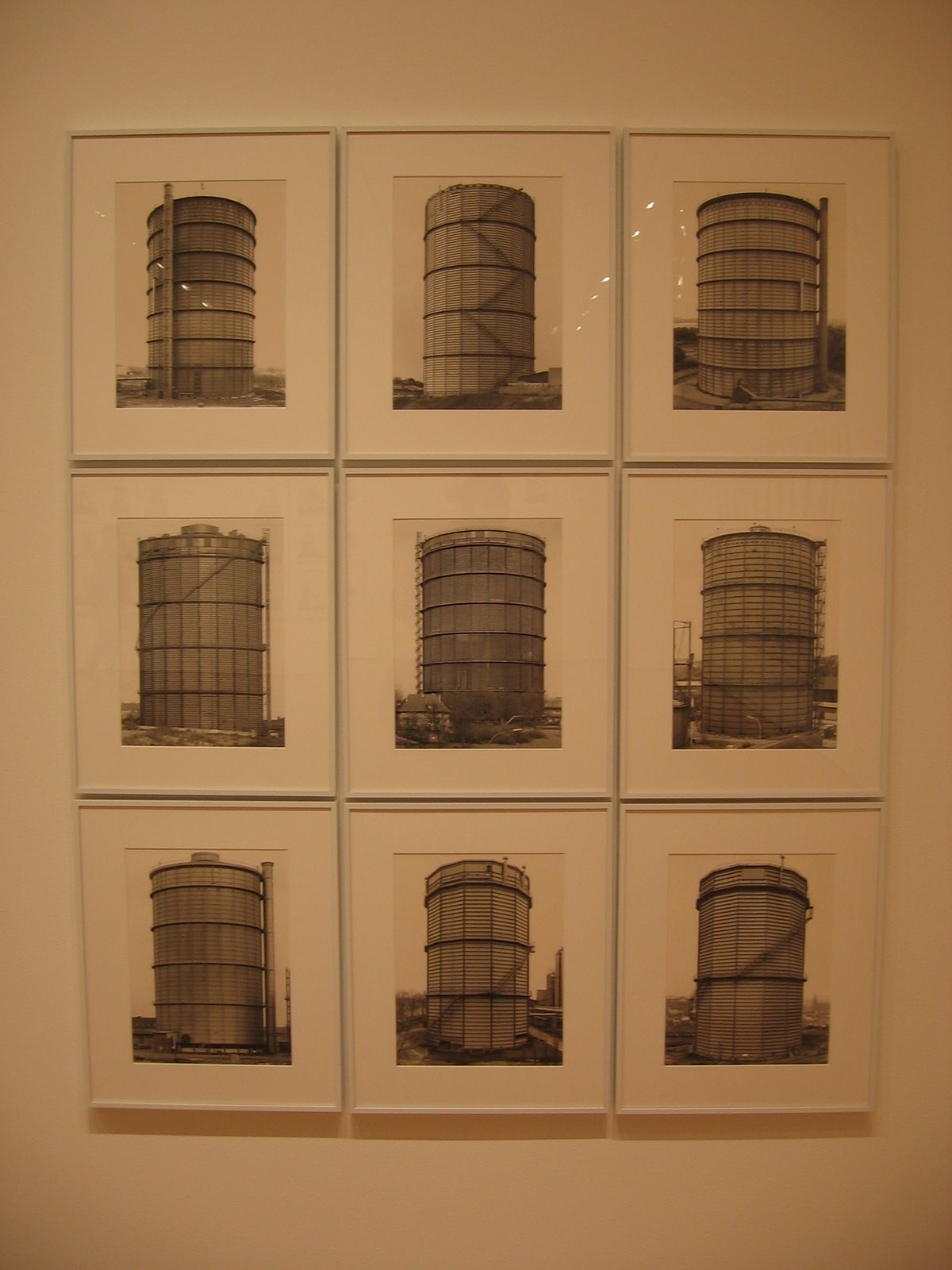 JTF (just the facts): 14 typologies, totalling 186 individual images, displayed in the temporary exhibit space (1 large room with a dividing wall) adjacent to the series of rooms showing selections from the permanent collection of photography. 10 3×3 typologies, 2 3×10 typologies, and 2 3×6 typologies, covering most of the Bechers' major subject matter groups: water towers, winding towers, coal tipples, blast furnaces, coal bunkers, gas tanks (Gas Tanks, 1971-1997 at right, copyright held by artist), cooling towers, and industrial landscapes. Most of the individual images are 14×11, except the industrial landscapes, which are 20×24.
Comments/Context: This is a terrific exhibit. Since the Bechers' work has crossed over into the world of Contemporary Art (capitalized), it seems to me that you tend to see a single typology example of their work, set among a variety of other contemporary art (not photography). Rarely is such a large group of typologies assembled, which makes it all the more visually arresting. Much of the commentary on the Bechers' work is full of words like systematic, functionalist, conceptual, pattern, forms, details and the like. And while these words do tell the story of the work, I came away with a few other ideas from this show.
The first is that the typologies are a profound exercise in theme and variation, in an almost musical sense. Much like Bach's
Art of the Fugue
or
Goldberg Variations
, I found myself looking at these works as beginning with a melody line, and then each succeeding image adding a variation on that melody or harmony. (
Water Towers 1966-1989
at left, copyright held by artist.) I also began to wonder whether my eye was actually traversing these typologies in a manner different than any other art, moving from left to right and down and back agai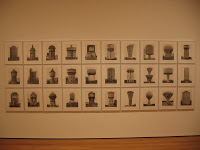 n to compare and contrast different images and forms.
The second idea was brought home by the Industrial Landscapes in the middle of the room. Virtually all of the Bechers work has the same dead-pan look: flat light, same camera angle, same framing, no people etc. They are devoid of context, omitting any information about their relationship to their environment. The Industrial Landscapes pan back and take in the whole setting of the structures. In many ways, I think these images are less successful than the frontal views, as the theme and variation idea breaks down quickly due to a lack of comparability. I do think however that by showing this work, which is fully "in context", side by side with the "out of context" work, it makes the contrast more thought provoking.
The third idea was that I became more interested to know more about how the Bechers have taught photography at the Dusseldorf Art Academy (in contrast to methods used anywhere else in the world). With such esteemed pupils as Andreas Gursky, Thomas Ruff, Thomas Struth, Candida Hofer, and many others, I found myself wondering about the details of how they ran their classes, and whether there are more obvious or literal remnants/influences of their teachings in the work of the students. Their school is one of the most important sources of photography innovation in the last few decades: where is the exhibition tying all these folks together coherently?
Collector's POV:
The market for the Bechers' work seems to be divided into three ranges: a low end range, where offset prints, mostly of diptychs, in large editions are available in the $1000-2000 range (all prices at auction); a mid range, which includes larger for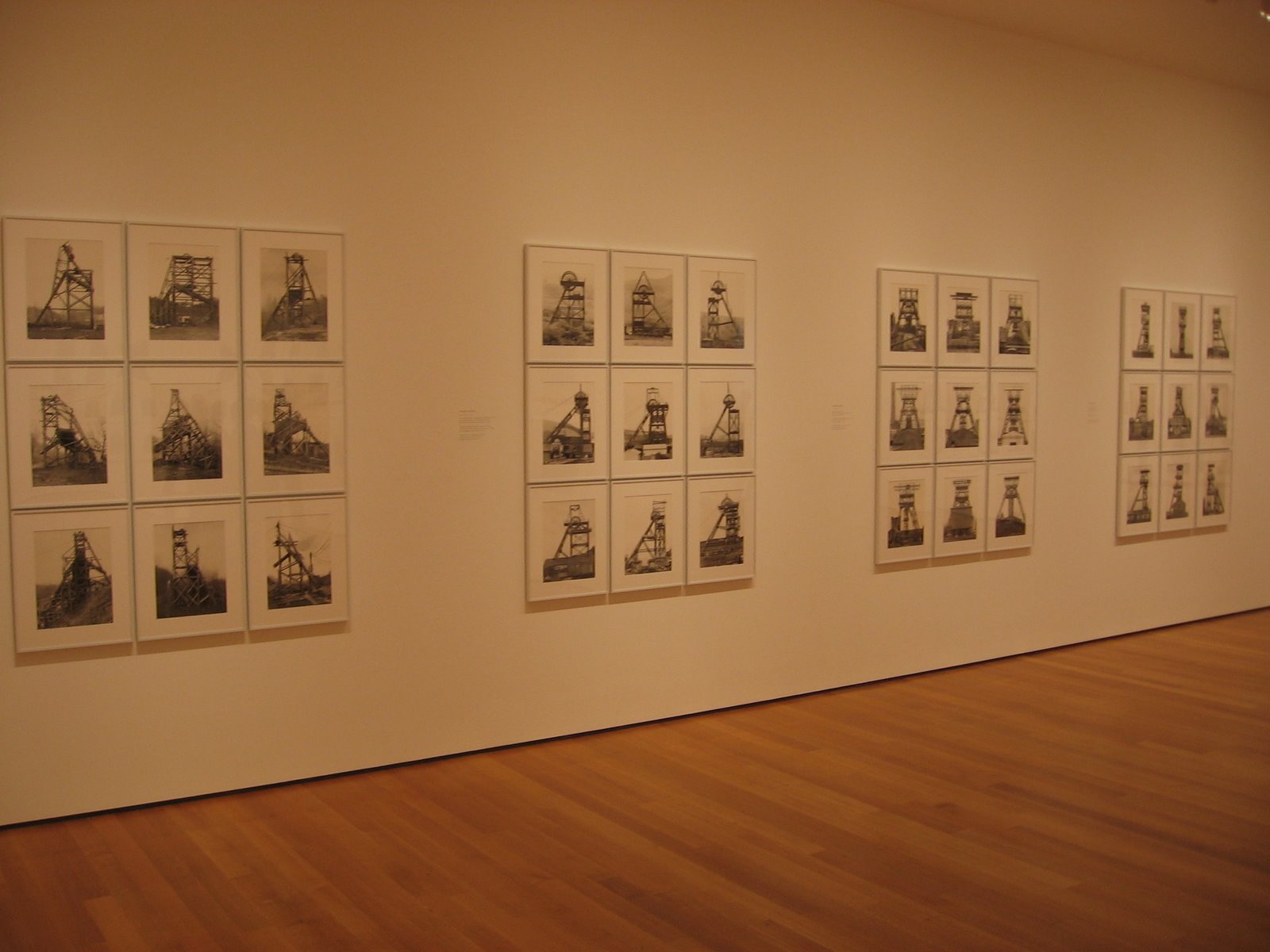 mat gelatin silver prints of individual structures, small gelatin silver print diptychs, and other small gelatin silver print typologies, in the range of $15000-50000; and a high end range, with larger scale, iconic typologies of multiple images, at $75000 and up into six figures. (Series of
Winding Tower
and
Coal Tipple
typologies at right, copyright held by artist.)
We have been looking for just the right image from the Bechers to add to our collection for a while now, realizing that an amazing large typology doesn't work for us for many reasons (size, cost, etc.). Our ideal would be to find a small, early gelatin silver diptych (typology on one side, single image on the other) that was well priced (ha!). This has been next to impossible so far, given the strong interest in the Bechers' work. We thought we had found a good substitute this spring in the auction at
Villa Grisebach
, where a small working page diptypch (contact prints with glue and notations all over) from the Framework House series was available at a low estimate. Unfortunately, the image went for 5 times the high estimate, before the buyer's premium! And in Euros as well. Ouch.
There is a series of excellent monographs put out by the MIT Press on the various Becher subject matter groups. Essential reference for your photo library.
Rating:
** (2 stars) VERY GOOD (rating system described
here
)
Through August 25th
11 West 53rd Street
New York, NY 10019