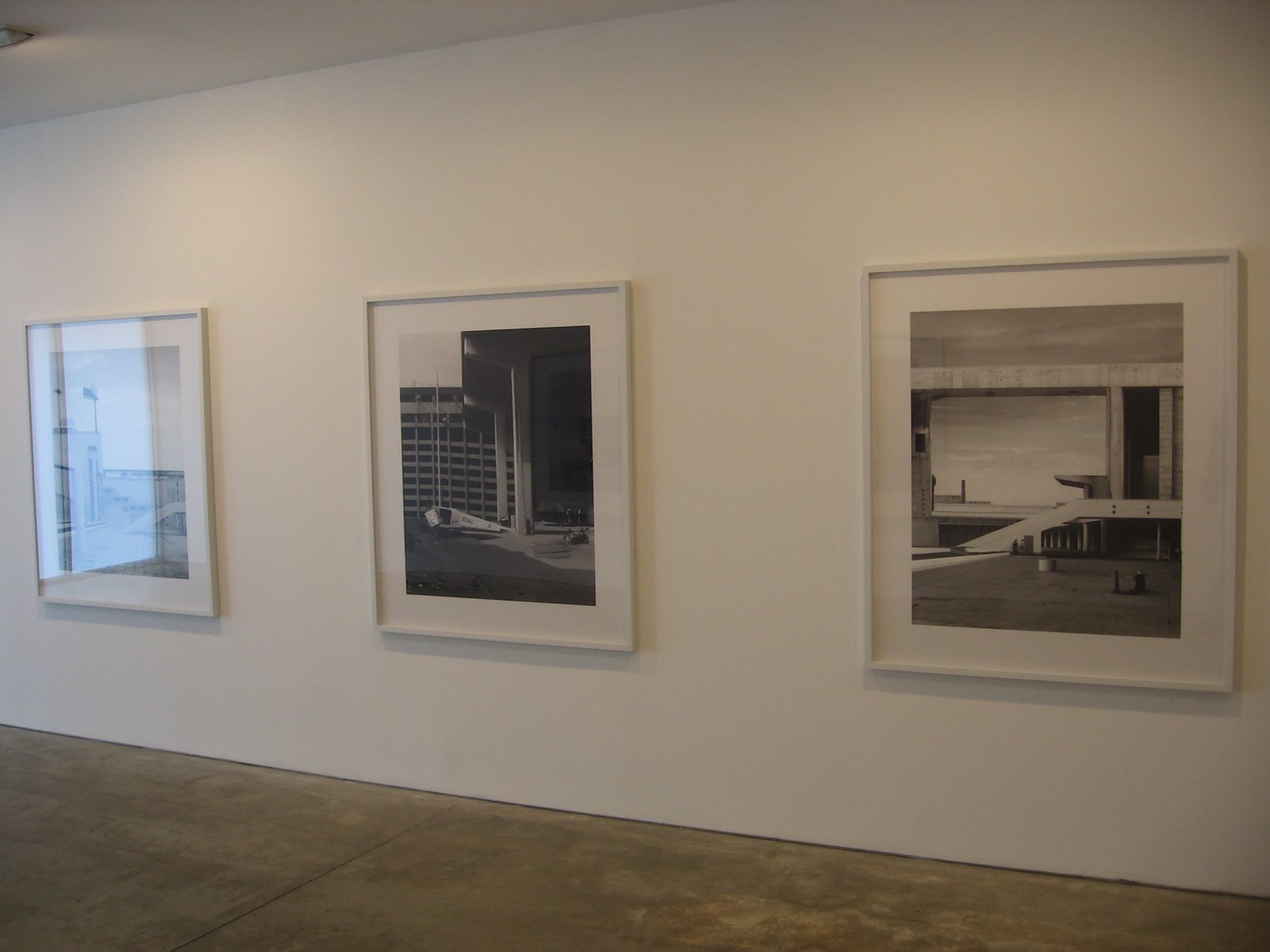 JTF (just the facts): A total of 16 black and white light jet prints, framed in white with no mat, hung in the entry and three back galleries. The works are printed in various sizes, ranging from 36×31 up to 70×105, and are made in editions of 5 or 15. The images were created between 2004 and 2009. (Installation shots at right.)
Comments/Context: While deadpan images of decaying cities and towns have become a commonplace subject for many contemporary photographers, Beate Gütschow has taken this idea to an entirely different level in the works now on view at Sonnabend. Gütschow starts by taking hundreds of analog images of architecture in locations all over the world, and then combines fragments from these pictures digitally into seamless and entirely original views that walk the line between apparent reality and obvious falsehood.
.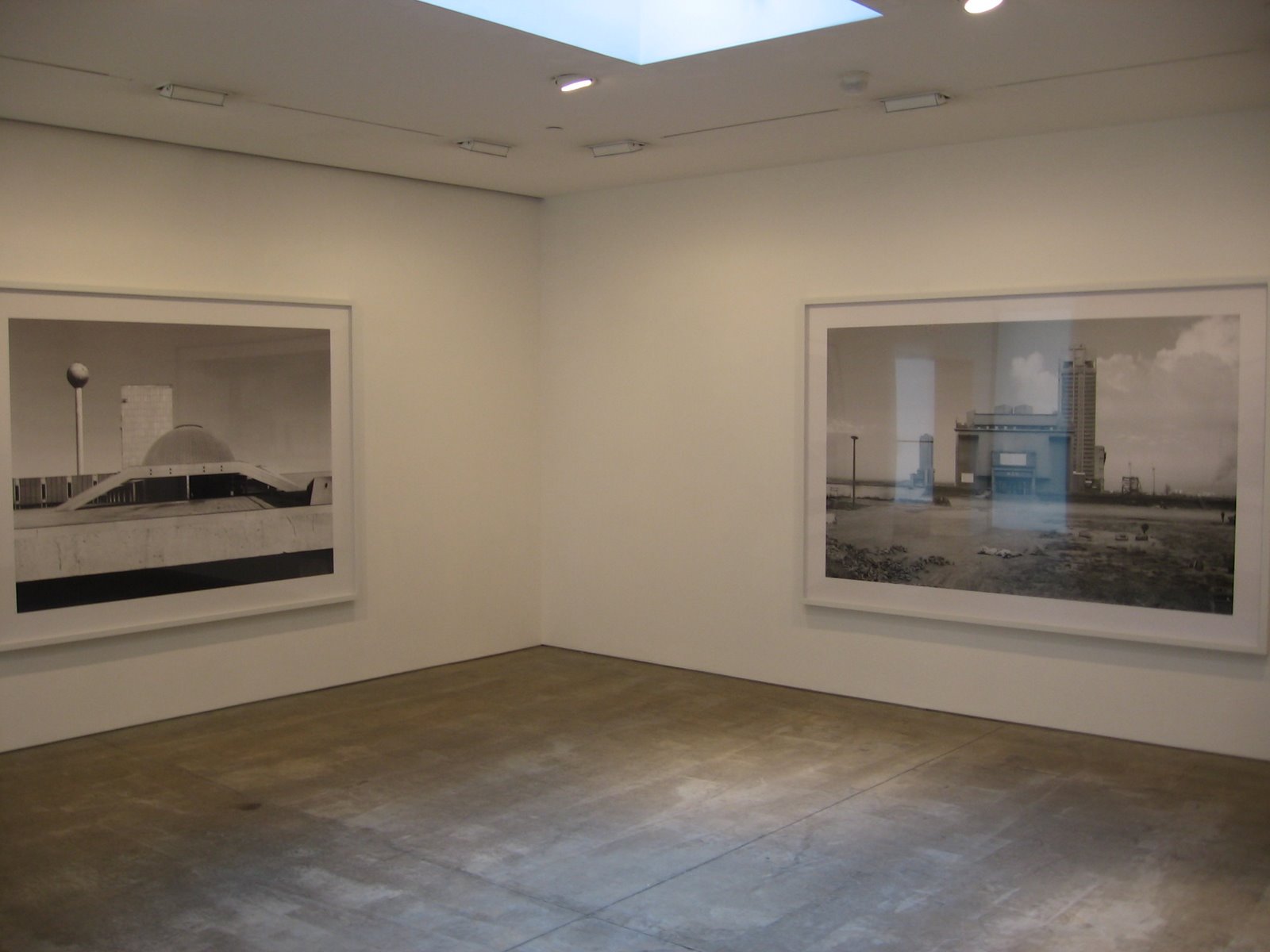 On first glance, these abandoned buildings and empty plazas look hauntingly plausible, perhaps a documentary record of desolation from a far off failed state or a Julius
Shulman
-type record of some unknown architect's massive constructions. And yet, something is just not quite right – the scale of the buildings is so immense, the wastelands that surround them are so expansive – where on earth could this be?
The word "post-apocalyptic" has become a science fiction cliché, but these images truly seem to depict a world after some kind of disaster, where nearly all the people are gone (leaving behind only a few disoriented survivors, seen wandering aimlessly between the overly huge buildings) and the open sky has become a cloudless monotone grey. The images portray a convincing alternate reality (the cobblestones and concrete are cracked and worn), one that is more than a bit unsettling and depressing.
.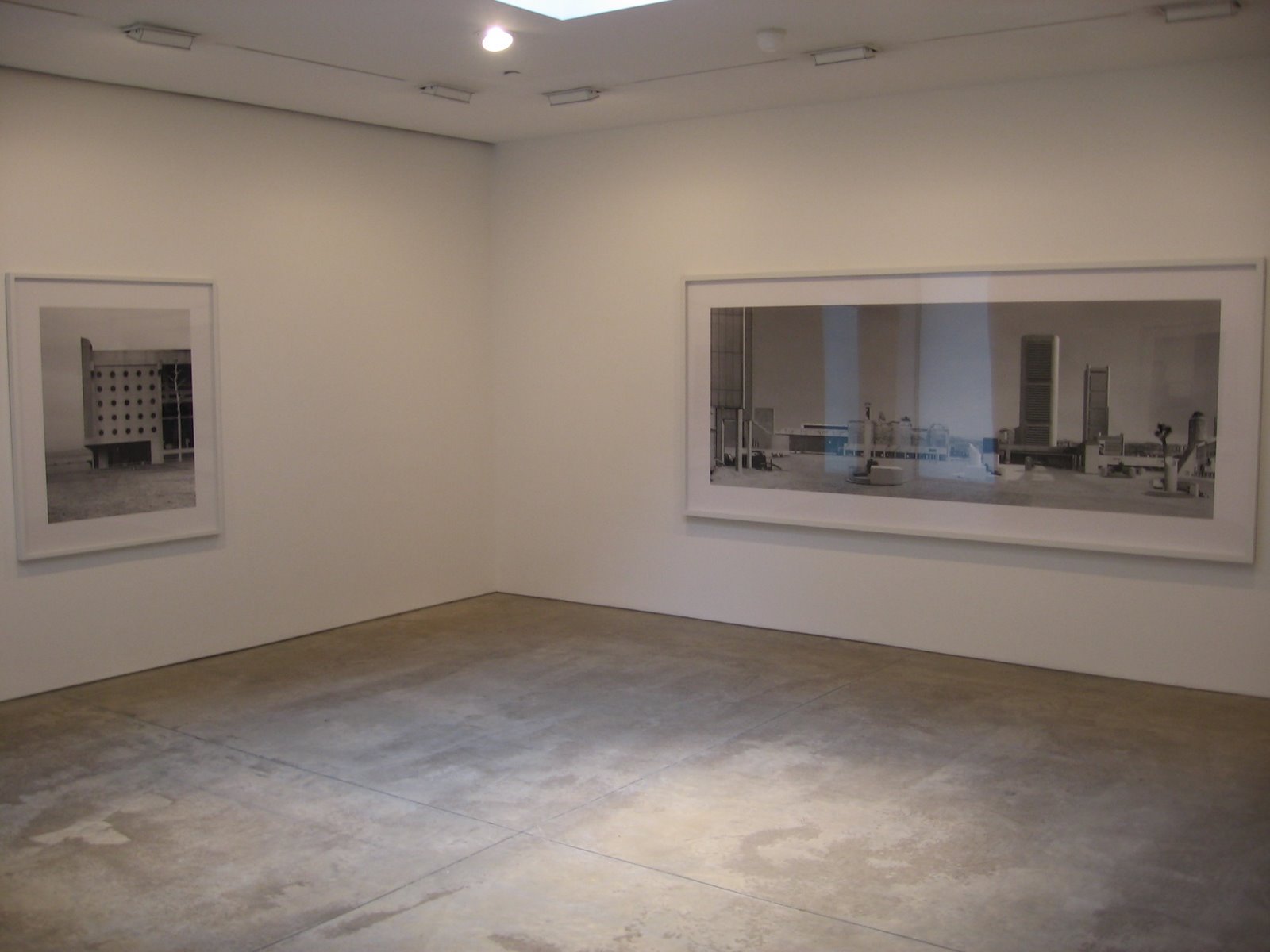 What I think is compelling here is that Gütschow is using significant digital manipulation not in an obvious, attention grabbing fashion (look at me!), but with a degree of subtlety and understatement that draws the viewer into the trap. Once the viewer catches on (and gets over the staggering amazement of how these pictures were actually constructed), a second level of meaning in the works is discovered and their implicit commentary on our world is delivered with much more force. Even if you are not an architectural photography fan, this show merits a visit to see how digital tools can be used in sophisticated new ways.
Collector's POV: The prints in this show are priced between 8000 and 20000 Euros. To date, there have been few if any images available in the secondary markets. I very much enjoyed the works in this show, and if they weren't so large, I could absolutely imagine adding one to our collection. I have a strong sense that these images will age well, and would provide an interesting dialogue with traditional architectural works, in the same way that Joan Fontcuberta's fabricated flowers offer unique contrasts to normal floral still lifes.
Rating:
** (two stars) VERY GOOD (rating system described
here
)
Transit Hub:
MOCP show, 2006 (here)
Frieze magazine article (here)
Danziger Projects Landscape show, 2005 (here)
Beate Gütschow
Through July
Sonnabend
Gallery (
artnet
page
here
)
536 West 22nd Street
New York, NY 10011