JTF (just the facts): A total of over 200 images and related ephemera, spread across the three rooms on the upper level and four rooms on the lower level of the museum. By our count, there are 169 photographs, 4 sets of contact prints, 28 magazine spreads, and a series of collages/mock ups, the photographs framed in white with mats, and the rest of the material displayed in a six glass cases, situated throughout the exhibit. After a group of introductory pictures in the first room, the show is divided into sections, mostly by chronology: 1944-1949, Paris By Night, and 1950-1959 on the upper level, and 1960-1969, 1970-2000, and a room of magazine engraving prints and mock ups on the lower level. Virtually all of the prints are gelatin silver, except a small number of later color works in the final section. The exhibit was jointly curated by Carol Squires and Vince Aletti. (Since no photography is allowed at the ICP, unfortunately there are no installation shots of this show.)
Comments/Context: One of the things a major retrospective can do is help to put an artist's work in a larger chronological context, exposing the evolution of approach over time, in much more detail that any randomly selected handful of "great" pictures might hope to show. The comprehensive show of Richard Avedon's fashion work from the mid 1940s through the end of the century now on view at the ICP follows his stylistic transformations over the decades and tells an unexpected rise and fall story, exactly in phase I think with changes in the world of fashion and his increasing focus on portraiture.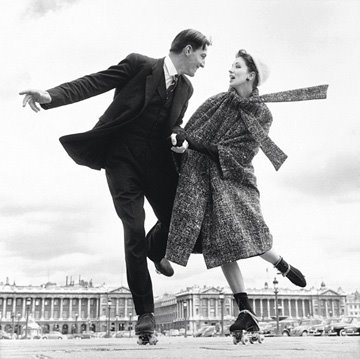 The upstairs galleries are a review of
Avedon's
"early" work, spanning the 1940s and 1950s, primarily in Paris and all for
Harper's Bazaar
. These three rooms are nothing less than a virtuoso artistic performance. In these images,
Avedon
single
handedly
redefined "
glamorous
" and "elegant" for a generation of people worldwide. The women and fashions are alternately seductive and graceful, sinuous and angular, always brimming with life and energy, slyly laughing at an inside joke. There is constant movement: balletic leaps and artful poses, playful happy motion swirling across the frame. (
Suzy Parker and Robin Tattersall, dress by Dior, Place de la Concorde, Paris, August 1956,
at right via
ICP
website.) And all of this fun takes place against the jarring backdrop of street life: couture gowns on broad stone staircases or on sidewalks, in casinos and nightclubs, at dinner tables and languidly exiting
chauffeur
driven cars. The scenes evoke romance, mystery, and magic, and show powerful, confident women in control of their lives. On the whole, the work is both stunning in its glamour and emphatic in its optimism. The staging of the images in the
darkened
room of Paris By Night, with each image lit by a small spotlight, further enhances the tantalizing and enchanted atmosphere of these spectacular pictures.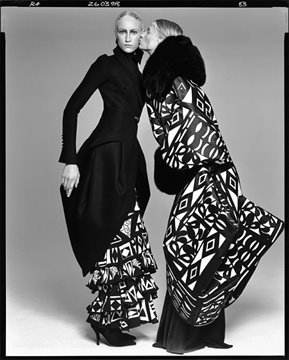 Except for the saucy
faux
paparazzi shots of Suzy Parker and Mike Nichols from the early sixties, the work on the lower level (the "later" work, from the 1960s onward) has a much different tone. Gone are the boulevards and cafes of Paris; they have been replaced by the monochrome grey background of the studio. And while
Avedon's
signature movement is still very much in evidence (jumping, prancing, and nearly falling down), both the models and the fashions themselves have become slightly harsher and less classically beautiful, edgier, more challenging and
avant
–
garde
. With the lively
juxtaposition
of fashion and everyday life now absent,
Avedon
closes in, making more profile shots and direct
frontals
.
Sassyness
is traded for frowns and blank looks. As the years pass, the images seem more and more rote, following the now familiar playbook: deadpan model in wild clothes and dark makeup, staggering against a sea of grey. (
Jade Parfitt and Esther De Jong, ensembles by Galliano, New York, March 1998
, at right via
ICP
website.) While there are still plenty of standout images in this period as well (he certainly hadn't lost any of his technical and artistic prowess), I sense that
Avedon
had tired of these exercises, and had perhaps moved on to focusing his innovative energies into portraiture.
For those that remain skeptical of fashion photography as art, this exhibit (and especially the images on the upper floor) should put to rest the antiquated idea that these pictures somehow aren't worthy of our attention. This is a first class analysis of a modern master and provides an important foil to discussions of his portrait work. Don't miss it.
Collector's POV:
Richard
Avedon
is represented by Pace/
MacGill
Gallery in New York (
here
) and by
Fraenkel
Gallery in San Francisco (
here
). While
Avedon's
vintage prints of fashion are becoming harder and harder to come by, later prints, made in larger editions of between 50 and 200, are more readily available in the secondary markets. This is not to say that these images are inexpensive; they're not.
Avedon's
fashion images and portraits have
achieved
a relatively stable price parity, with the iconic images finding prices in six figures, and the images a step down in popularity solidly in five figures.
Rating:
*** (three stars) EXCELLENT (rating system described
here
)
Transit Hub:
Through September 20th