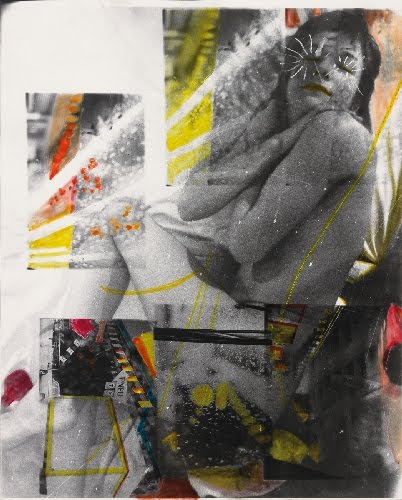 Kunsthaus Lempertz has a group of sales coming up in Cologne next week, a various owner Photography sale, a single collector sale that includes photography, and a Contemporary Art sale that includes photography. Lempertz does the smart thing of pulling all the photo lots into one printed catalog, so collectors don't have to dig through all the various catalogs to find the photo lots of interest (they are separate online however). Overall, there are a total of 264 photo lots on offer across the three sales, with a Total High Estimate of 883700€.
If you ever said to yourself that you wanted a Sigmar Polke photograph for your collection, now would be a good time to acquire one: there are 16 Polkes in the Vogel sale, the most I have ever seen at auction at one time (Lot 1140, Sigmar Polke, Untitled (from the series: Paris), 1971, at 12000-15000€, image at right, via Lempertz.) There are also a number of excellent Becher winding towers (all groups of 4 images) available (Lot 1010 Zeche Bonifacius, Essen, 1981-1982, at 15000€, image at right, bottom, via Lempertz.)
Here's the breakdown:
Total Low Lots (high estimate up to and including 7500€): 233
Total Low Estimate (sum of high estimates of Low lots): 398200€
Total Mid Lots (high estimate between 7500€ and 35000€): 30
Total Mid Estimate: 425500€
Total High Lots (high estimate above 35000€): 1
Total High Estimate: 60000€
The top lot by High estimate is lot 951, Andy Warhol, Untitled (The Dirty Half Dozen), 1969, at 50000-60000€.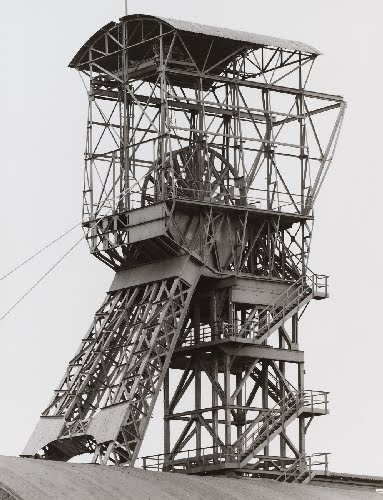 Here's the list of photographers who are represented by three or more lots in the three sales (with the number of lots in parentheses):
Sigmar Polke (16)
Bernd & Hilla Becher (8)
Heinrich Kühn (7)
Albert Renger–Patzsch (7)
August Sander (6)
Nobuyoshi Araki (5)
Candida Höfer (5)
Peter Keetman (5)
Richard Hamilton (4)
Clemens Kalischer (4)
Alfred Stieglitz (4)
Hiroshi Sugimoto (4)
Henri Cartier-Bresson (3)
Robert Doisneau (3)
T. Lux Feininger (3)
Edmund Kesting (3)
August Kreyenkamp (3)
Hedda Hammer Morrison (3)
Man Ray (3)
Leni Riefenstahl (3)
Jeanloup Sieff (3)
Miroslav Tichy (3)
Umbo (3)
The complete lot by lot online catalogs can be found here (Photography), here (Vogel Collection) and here (Contemporary Art).
Photography
May 31st
The Vogel Collection
June 1st
Contemporary Art
June 2nd
Kunsthaus Lempertz
Neumarkt 3
D-50667 Köln