Phillips completes the Spring Contemporary Art season in New York later this week with a two-part various owner auction on Thursday and Friday. Compared to the other two major houses, the photo consignments in these sales are quite a bit more modest, with a Gursky and a pair of Shermans as the headliners. All in, there are a total of 50 lots of photography available across the two sessions, with a total High estimate for photography of $3338000.
.
Here's the statistical breakdown:
Total Low Lots (high estimate up to and including $10000): 12
Total Low Estimate (sum of high estimates of Low lots): $86000
.
Total Mid Lots (high estimate between $10000 and $50000): 26
Total Mid Estimate: $652000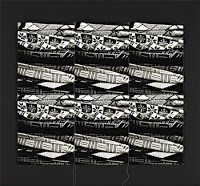 Total High Lots (high estimate above $50000): 12
Total High Estimate: $2600000
.
The top photography lot by High estimate is lot 45, Andreas Gursky, Brasalia Plenarsaal II, 1994, at $500000-700000.
Here's the short list of photographers represented by three or more lots in the sales (with the number of lots in parentheses):
Vik Muniz (5)
Thomas Ruff (4)
.
(Lot 250, Sharon Core, Early American, Lemons, 2007, at $5000-7000, image at right, bottom, lot 388, Andy Warhol, Sweaters, 1976-1986, at $20000-30000, image at right, middle, and Nikki S. Lee, Part (8), 2003, at $5000-7000, image at right, top, all via Phillips.)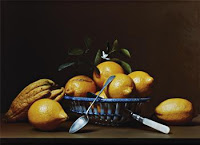 The complete lot by lot catalogs can be found here (Part I) and here (Part II).
.
Contemporary Art, Part I
May 12th
.
Contemporary Art, Part II
May 13th
.
Phillips De Pury & Company
450 Park Avenue
New York, NY 10022