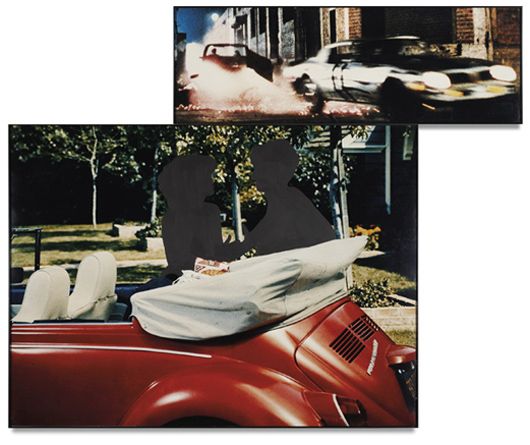 Phillips finishes up the Spring Contemporary Art season in New York at the end of next week, with the Halsey Minor Collection and a two-part various owner sale. There are a total of 93 lots of photography available across the sales, with a total High estimate for photography of $3157000.
Here's the statistical breakdown:
Total Low Lots (high estimate up to and including $10000): 34
Total Low Estimate (sum of high estimates of Low lots): $225000
Total Mid Lots (high estimate between $10000 and $50000): 45
Total Mid Estimate: $1032000
Total High Lots (high estimate above $50000): 14
Total High Estimate: $1900000
The top photography lot by High estimate is lot 13, John Baldessari, Two Cars, One Red, in Different Environments, 1990, at $300000-400000. (Image at right, top, via Phillips.)
Here's the list of photographers represented by more than two lots in the sales (with the number of lots in parentheses):
.
Hiroshi Sugimoto (7)
Dennis Hopper (6)
Florian Maier–Aichen (5)
Richard Prince (4)
Matthew Barney (3)
Gregory Crewdson (3)
Nikki Lee (3)
While it isn't one of the top lots, this Wolfgang Tillmans caught my eye due to its relationship to the other cutting-edge scientific, mathematical, and computer-based photography I have been enamored with recently. (Lot 151, Wolfgang Tillmans, Supercollider (Refraction), 2003, at $40000-60000. Image at right, via Phillips.)
May 13th