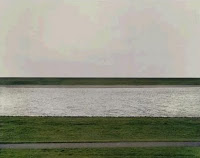 Sotheby's is up first in the Spring Contemporary Art season in New York next week, with Evening and Day auctions Tuesday and Wednesday. With over $10 million dollars of photographic value on offer, it's clear that consignments are way up, in both number and value. Led by a pair of top end Gurskys, there are more high end photographic lots in this set of sales (33) than in any auction in recent memory. All in, there are a total of 58 lots of photography available across the two sales, with a total High estimate for photography of $10114000.
Here's the statistical breakdown:
Total Low Lots (high estimate up to and including $10000): 0
Total Low Estimate (sum of high estimates of Low lots): NA
Total Mid Lots (high estimate between $10000 and $50000): 25
Total Mid Estimate: $744000
.
Total High Lots (high estimate above $50000): 33
Total High Estimate: $9370000
.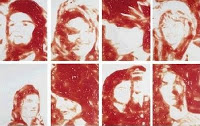 The top photography lot by High estimate is lot 9, Andreas Gursky, Rhein I, 1996, at $1000000-1500000. (Image at right, top, via Sotheby's.)
Here's the list of photographers represented by three or more lots in the two sales (with the number of lots in parentheses):
John Baldessari (4)
Andreas Gursky (4)
Vik Muniz (4)
Cindy Sherman (4)
Elger Esser (3)
Thomas Ruff (3)
Andres Serrano (3)
Hiroshi Sugimoto (3)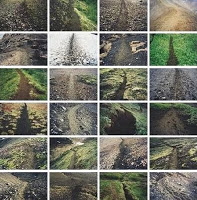 (Lot 563, Vik Muniz, Jackies (In Ketchup), 1999, at $150000-200000, image at right, middle, and lot 578, Olafur Eliasson, The Path Series, 1999, at $60000-80000, image at right, bottom, both via Sotheby's.)
The complete lot by lot catalogs can be found here (Evening) and here (Day).
Contemporary Art, Evening Sale
May 10th
.
Contemporary Art, Day Sale
May 11th
.
Sotheby's
1334 York Avenue
New York, NY 10021