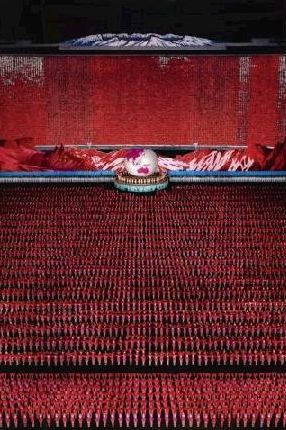 Sotheby's has the final slot in the London Frieze week sales, with its Contemporary Art Evening and Day auctions on the 15th and 16th. The top photography lots include work by Gursky, Uklanski, Prince, Gilbert & George, and Sherman. Overall, there are a total of 28 photo lots available across the two sales, with a Total High Estimate of £2608000.
Here's the statistical breakdown:
Total Low Lots (high estimate up to and including £5000): 1
Total Low Estimate (sum of high estimates of Low lots): £4000
Total Mid Lots (high estimate between £5000 and £25000): 15
Total Mid Estimate: £224000
Total High Lots (high estimate above £25000): 12
Total High Estimate: £2380000
The top lot by High estimate is lot 6, Andreas Gursky, Pyongyang IV, 2007, at £500000-700000. (Image at right, top, via Sotheby's.)
Here is a list of the photographers who are represented by more than one lot in the two sales (with the number of lots in parentheses):
Gilbert & George (3)
Darren Almond (2)
John Baldessari (2)
Elger Esser (2)
Florian Maier–Aichen (2)
Vik Muniz (2)
Cindy Sherman (2)
The complete lot by lot catalogs can be found here (Evening) and here (Day).
Contemporary Art Evening
October 15th
Contemporary Art Day
October 16th
Sotheby's
34-35 New Bond Street
London W1A 2AA