Sotheby's finishes up the Spring Contemporary Art season with Evening and Day sales next week in London. The top photography lots include works by Gursky, Eliasson, and Gilbert & George. There is also a Gillian Wearing commission available as a benefit for Serpentine Sackler Gallery. Overall, there are a total of 40 photo lots available across the two sales, with a Total High Estimate of £2783000.
Here's the usual statistical breakdown:
Total Low Lots (high estimate up to and including £5000): 1
Total Low Estimate (sum of high estimates of Low lots): £5000
Total Mid Lots (high estimate between £5000 and £25000): 23
Total Mid Estimate: £378000
Total High Lots (high estimate above £25000): 16
Total High Estimate: £2400000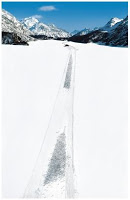 The top lot by High estimate is lot 39, Andreas Gursky, Engadin II, 2006, at £500000-700000. (Image at right, middle, via Sotheby's.)
Here is a list of the photographers who are represented by more than one lot in the two sales (with the number of lots in parentheses):
Gilbert & George (4)
Andreas Gursky (4)
Vik Muniz (3)
Cindy Sherman (2)
Thomas Struth (2)
Hiroshi Sugimoto (2)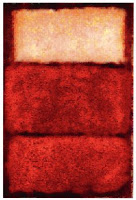 (Lot 288, Gilbert & George, Black Buds, 1980, at £150000-200000, at right, top, and lot 290, Rashid Rana, What Lies Between Skin and Flesh, 2009, at £50000-70000, at right, bottom, via Sotheby's.)
The complete lot by lot catalogs can be found here (Evening) and here (Day).
Contemporary Art Evening
June 29th
Contemporary Art Day
June 30th
Sotheby's
34-35 New Bond Street
London W1A 2AA