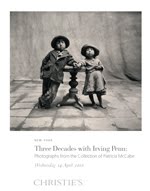 After Irving Penn died last Fall, the market for his work went through a series of wild gyrations, with some prints going far, far above where they normally would have, while others seeming to be almost overlooked. This single artist/single owner sale of Penn's work, consigned by Patricia McCabe (Penn's long-time studio manager), should sort out the market for Penn's work a bit, giving collectors a clearer view on where prices are actually finding equilibrium. Given the provenance, I imagine prices will be surprisingly high. There are a total of 70 lots on offer in this auction with a total High estimate of $2020000. (Catalog cover at right, via Christie's website.)
Here's the statistical breakdown:
Total Low Lots (high estimate up to and including $10000): 4
Total Low Estimate (sum of high estimates of Low lots): $18000
Total Mid Lots (high estimate between $10000 and $50000): 60
Total Mid Estimate: $1512000
Total High Lots (high estimate above $50000): 6
Total High Estimate: $490000
.
The top lot by High estimate is lot 14, Irving Penn, Cuzco Children, 1948/1964, at $100000-150000. (Cover lot, above.)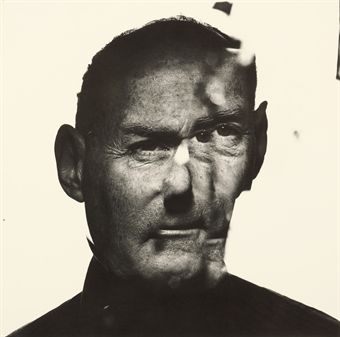 While the many flowers in this sale would likely be the best fits for our own particular collection, I have to admit I found the Penn self portrait the most arresting and unusual image in the sale. (Lot 11, Irving Penn, Self-Portrait, New York, 1986/1990, at $25000-35000, at right, via Christie's website.)
Christie's
20 Rockefeller Plaza
New York, NY 10020