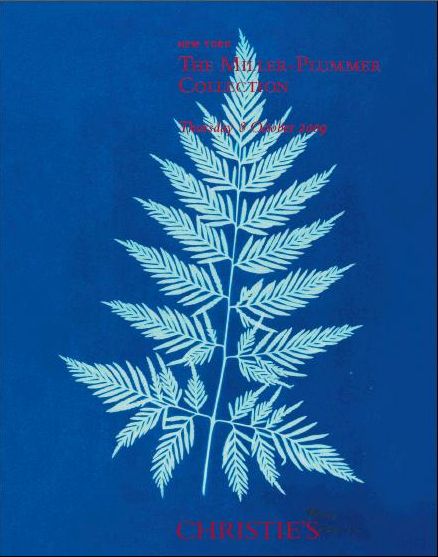 While certainly any collector's definition of a good auction is one that includes the specific material that interests him/her, I must admit that beyond our personal affinities, I thoroughly enjoy single owner sales. I think that this is because I am intensely interested in the process of collecting, of how collectors weigh options and make choices, how they search, and hunt, and look, and educate themselves, eventually culminating in laying down their hard earned money for those certain images that move them the most. Every single collection is a unique gathering, the objects often connected by less than obvious ideas and emotional responses. I also think there is a lot to be learned from collectors who have been at it for decades; this is why we are always searching out experienced collectors who will talk with us, and tell us their secrets, even if our tastes for work are entirely different. The parallels are not in the end points, but in the thinking in between.
This collection was put together over a period of about 20 years, starting in 1973, culminating in an exhibition called Particulars at the George Eastman House in 1983. As far as private collections go, I haven't seen too many as diverse and nondogmatic as this one; how many collections can you name that include unknown daguerreotypists, a heavy dose of known and unknown 19th century material, Moholy-Nagy photograms, and 1970s Robert Heinecken? I like this unconventional heterogeneity; it says that the two collectors were not unnecessarily bound by convention or fashion, but sought out the exceptional or extraordinary (in their eyes) in whatever form it might take.
The sale itself has more 19th century material than we normally see in the main flow of the New York auction season; more than 45% of the lots on offer are dated before 1900. Overall, there are a total of 118 lots up for sale, with a total High estimate of $1746200. (Catalog cover at right.)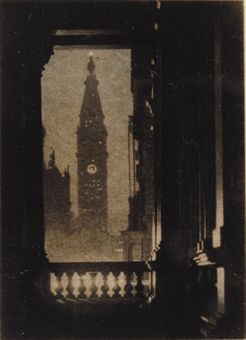 Here's the breakdown:
Total Low Lots (high estimate up to and including $10000): 74
Total Low Estimate (sum of high estimates of Low lots): $444200
Total Mid Lots (high estimate between $10000 and $50000): 35
Total Mid Estimate: $672000
Total High Lots (high estimate above $50000): 9
Total High Estimate: $630000
The top lot by High estimate is lot 547, a complete set of Camera Work, Numbers 1-49/50, 1903-1917, at $90000-120000.
Given the eclectic nature of this sale, there are quite a few unexpected surprises buried amidst the lots, many of which would fit well with our own collection. Here are a few we found of interest:
Lot 560 Baron Adolph De Meyer, Water Lilies, c1906
Lot 564 Circle of Anna Atkins, Paris Arguta, from The Hatton Fern Album, c1850 (cover lot)
Lot 581 Margaret Bourke-White, The Bridge, Russia, 1930
Lot 582 Karl Struss, Metropolitan Life Insurance Tower, New York, 1909 (at right, middle)
Lot 583 Berenice Abbott, Downtown Manhattan from West Street below Rector, Manhattan, August 12, 1936
Lot 586 Daguerreotypist Unknown, Draped nude, c1860
Lot 597 A. Aubry Bodine, Steel and Shadows, Abstraction, c1951 and Baltimore Train Yard, c1946
Lot 614 Ray Metzker, Untitled, 1983-1984 (at right, bottom)
.
October 8th
20 Rockefeller Plaza
New York, NY 10020