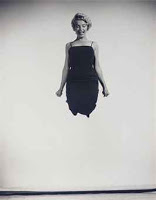 Christie's opens its spring Photographs season with a single owner collection of photographs of women. The sale brings together an edited mix of mid range fashion images, portraits and nudes. Overall, there are a total of 79 photographs on offer, with a total High estimate of $881500.
Here's the statistical breakdown:
Total Low Lots (high estimate up to and including $10000): 59
Total Low Estimate (sum of high estimates of Low lots): $346500
Total Mid Lots (high estimate between $10000 and $50000): 18
Total Mid Estimate: $415000
Total High Lots (high estimate above $50000): 2
Total High Estimate: $120000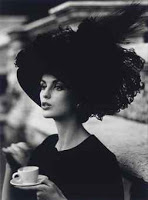 The top lot by High estimate is tied between two lots: lot 36, Philippe Halsman,
Marilyn Jumping,
1950, (image at right, top, via Christie's) and lot 72, Irving Penn,
Balenciaga Mantle Coat (Lisa Fonssagrives-Penn), Paris,
1950/1988, both at $40000-60000.
Here's the complete list of photographers represented by three or more lots in the sale (with the number of lots in parentheses):
Norman Parkinson (6)
Irving Penn (5)
Tomio Seike (5)
Jeanloup Sieff (5)
Lillian Bassman (4)
Erwin Blumenfeld (4)
Louise Dahl-Wolfe (4)
Stephane Graff (4)
Brett Weston (3)
Kurt Markus (3)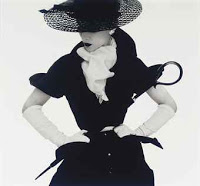 (Lot 11, Irving Penn,
Woman with Umbrella (Lisa Fonssagrives-Penn), New York,
1950/1984, at $30000-50000, at right, bottom, and lot 72, William Klein,
Dorothy + feathered hat + coffee, Rome,
1962, at $7000-9000, at right, middle, both via Christie's.)
April 7th
20 Rockefeller Plaza
New York, NY 10020