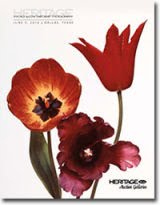 Heritage's photography sale in Dallas later this week (online bidding is already open) is a selection of mostly lower priced material, all with starting bids at half the Low estimate. Ritts, Mapplethorpe, Penn, and Avedon are among the top lots. All in, there are a total of 202 photography lots on offer, with a Total High Estimate of $732400. (Catalog cover at right, via Heritage.)
Here's the breakdown:
Total Low Lots (high estimate up to and including $10000): 190
Total Low Estimate (sum of high estimates of Low lots): $420400
Total Mid Lots (high estimate between $10000 and $50000): 11
Total Mid Estimate: $262000
Total High Lots (high estimate above $50000): 1
Total High Estimate: $50000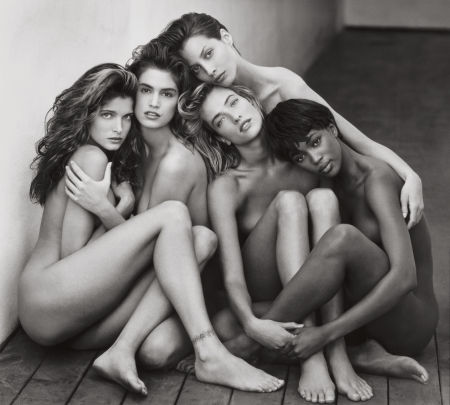 The top lot by High estimate is lot 74167, Herb Ritts, Stephanie, Cindy, Christy, Tatjana, Naomi, Hollywood, 1989, at $30000-50000. (Image at right, via Heritage.)
Here is the list of the photographers who are represented by three or more lots in the sale (with the number of lots in parentheses):
Michael Kenna (16)
George Hurrell (13)
Garry Winogrand (10)
Harry Callahan (9)
Alfred Eisenstaedt (6)
Jacques Lowe (6)
Hank O'Neal (6)
Bert Stern (6)
Horace Bristol (5)
Alfred Cheney Johnston (5)
Philippe Halsman (4)
Arthur Rothstein (4)
Bruce Barnbaum (3)
John Florea (3)
Robert Freeman (3)
Horst P. Horst (3)
Jacques Henri Lartigue (3)
Robert Mapplethorpe (3)
Helmut Newton (3)
The complete lot by lot catalog can be found here.
Signature Fine Art Photography Auction
June 9th
Heritage Auctions
Design District Annex
1518 Slocum Street
Dallas, TX 75207