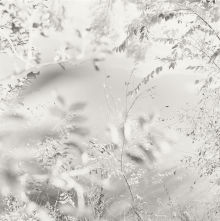 While Heritage was able to draw more consignment dollars to its recent photography sale than ever before, the auction house continues to suffer from poor outcomes. With more than 60% of the lots that sold selling below their estimate ranges and a Buy-In rate over 30%, it is no wonder the Total Sale Proceeds missed the estimate range by a wide margin.
The summary statistics are below (all results include the buyer's premium):
Total Lots: 196
Pre Sale Low Total Estimate: $616650
Pre Sale High Total Estimate: $916800
Total Lots Sold: 132
Total Lots Bought In: 64
Buy In %: 32.65%
Total Sale Proceeds: $411281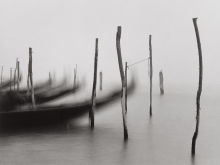 Here is the breakdown (using the Low, Mid, and High definitions from the preview post, here):
.
Low Total Lots: 187
Low Sold: 124
Low Bought In: 63
Buy In %: 33.69%
Total Low Estimate: $714300
Total Low Sold: $288494
.
Mid Total Lots: 9
Mid Sold: 8
Mid Bought In: 1
Buy In %: 11.11%
Total Mid Estimate: $202500
Total Mid Sold: $122786
High Total Lots: 0
High Sold: NA
High Bought In: NA
Buy In %: NA
Total High Estimate: $0
Total High Sold: NA
The top lot by High estimate is lot 74040, Ansel Adams, Moonrise, Hernandez, New Mexico, 1941/1978, at $30000-50000; it was also the top outcome of the sale at $35850.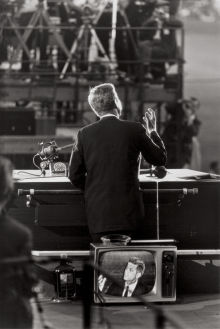 A troubling 62.88% of the lots that sold had proceeds below their estimate. There were a total of three surprises in this sale (defined as having proceeds of at least double the high estimate):
Lot 74068, Garry Winogrand, JFK, Democratic National Convention, Los Angeles, 1960/1983, at $2629 (image at right, bottom via Heritage)
Lot 74133 Michael Kenna, Gondolas I, Venice, Italy, 1980/1981, at $4780 (image at right, middle, via Heritage)
Lot 74138, Ray Metzker, 86 GB-6, Colorado, from Earthly Delights, 1986, at $3346 (image at right, top, via Heritage)
.
Complete lot by lot results can be found here.
Heritage Auctions
The Fletcher-Sinclair Mansion
2 East 79th Street
New York, NY 10075