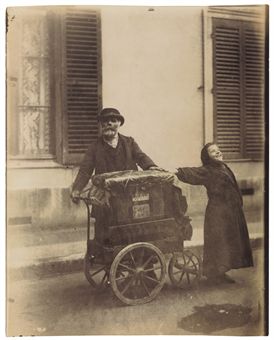 Sometimes the fate of an auction turns on the fight for just one lot. Such was the case with the single owner Baio Collection sale earlier today, where a skyrocketing Atget image (to more than 4.5 times its high estimate) helped push a sale that was heading for a normal, middle of the range kind of outcome into the joyful zone well above the total High estimate.
The summary statistics are below (all results include the buyer's premium):
Total Lots: 120
Pre Sale Low Total Estimate: $735500
Pre Sale High Total Estimate: $1080500
Total Lots Sold: 86
Total Lots Bought In: 34
Buy In %: 28.33%
Total Sale Proceeds: $1425500
Here is the breakdown (using the Low, Mid, and High definitions from the preview post,
here
):
Low Total Lots: 98
Low Sold: 71
Low Bought In: 27
Buy In %: 27.55%
Total Low Estimate: $536500
Total Low Sold: $391500
Mid Total Lots: 21
Mid Sold: 14
Mid Bought In: 7
Buy In %: 33.33%
Total Mid Estimate: $394000
Total Mid Sold: $347500
High Total Lots: 1
High Sold: 1
High Bought In: 0
Buy In %: 00.00%
Total High Estimate: $150000
Total High Sold: $686500
The top lot by High estimate was lot 171, Eugène Atget, Joueur d'Orgue, 1898-1899, at $100000-150000; it was also the top outcome of the sale (by far) at $686500. (Image at right, top, via Christie's.)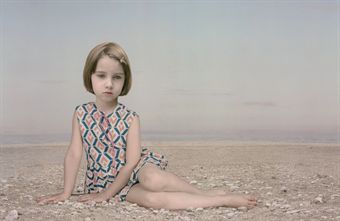 100.00% of the lots that sold had proceeds in or above the estimate range (not a single lot sold below the range, which is pretty unusual). There were a total of 7 surprises in this sale (defined as having proceeds of at least double the high estimate):
Lot 112, Loretta Lux, Paulin, 2002, at $30000 (image at right, via Christie's)
Lot 151, Weegee, Summer, the Lower East Side, c1937, at $20000
Lot 166, Felix Gonzalez-Torres, Untitled, 1994, at $4000
Lot 171, Eugene Atget, Joueur d'Orgue, 1898-1899, at $686500
Lot 175, Laszlo Moholy-Nagy, The Water's Edge (Hungarian Sea), c1929, at $52500
Lot 191, Will McBride, Mike with other students in the 'shower', Schlosschule Salem, 1963/1970s, at $6875
Lot 204, Philip-Lorca DiCorcia, Head #23, 2000, at $52500
Complete lot by lot results can be found
here
.