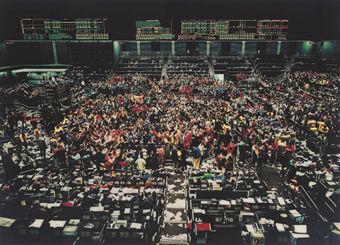 When both of the million dollar photo lots pass, but somehow the total sale proceeds for photography can still fall within the estimate range, I think it says something about how broad based the demand in the market has become. This is exactly what occurred at Christie's earlier this week – both the Wall and the Prince bought in, but the rest of the sale picked up the slack, with an overall buy-in rate of less than 10%. The evening portion of the Crichton Collection sale was white glove, with the Gursky (at right) and another Prince (below) both selling above their estimates.
The summary statistics are below (all results include the buyer's premium):
Total Lots: 44
Pre Sale Low Total Estimate: $4521000
Pre Sale High Total Estimate: $6684000
Total Lots Sold: 40
Total Lots Bought In: 4
Buy In %: 9.09%
Total Sale Proceeds: $5514600
Here is the breakdown (using the Low, Mid, and High definitions from the preview post,
here
):
Low Total Lots: 1
Low Sold: 1
Low Bought In: 0
Buy In %: 00.00%
Total Low Estimate: $3000
Total Low Sold: $2750
Mid Total Lots: 22
Mid Sold: 20
Mid Bought In: 2
Buy In %: 9.09%
Total Mid Estimate: $621000
Total Mid Sold: $873350
High Total Lots: 21
High Sold: 19
High Bought In: 2
Buy In %: 9.52%
Total High Estimate: $6060000
Total High Sold: $4638500
The two top photography lots by High estimate were lot 69, Richard Prince, Untitled (Cowboy), 1999, and lot 73, Jeff Wall, Adrian Walker, artist, drawing from a specimen in the Dept. of Anatomy at the University of British Columbia, Vancouver, 1992, both at $800000-1200000; neither of these lots sold. The top outcome of the series of sales was lot 8, Andreas Gursky, Chicago Board of Trade, 1997, at $902500. (Image at right, top, via Christie's.)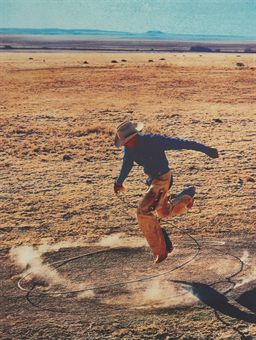 95.00% of the lots that sold had proceeds in or above the estimate range. There were a total of 6 surprises in this sale (defined as having proceeds of at least double the high estimate):
Lot 26, Richard Prince, Untitled (Cowboy), 2003, at $602500 (image at right, via Christie's)
Lot 145, Charles Ray, Untitled, 1973, at $158500
Lot 147, Tom Friedman, Untitled, 1996, at $27500
Lot 487, Cindy Sherman, Untitled #102, at $146500
Lot 493, Mike Kelley, Nostalgic Description of the Innocence of Childhood, 1990, at $62500
Lot 494, Mike Kelley, Manipulating Mass-Produced Idealized Objects, 1990, at $86500
Lot 560, Vik Muniz, The Reader after Fragonard from Pictures of Chocolate, 2002, at $84100
Complete lot by lot results can be found
here
(Crichton),
here
(Evening),
here
(Morning) and
here
(Afternoon).