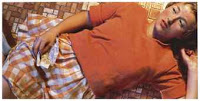 The demand for Cindy Sherman's work continue to grow by leaps and bounds. All 10 Sherman lots in these sales sold above their estimates, including the image at right which became the most expensive photograph ever sold at auction, at a whopping $3890500. In general, the photography in these sales performed admirably, with a low Buy-In rate (just 10%) and Total Sale Proceeds that topped the high end of the range by more than $3M.
The summary statistics are below (all results include the buyer's premium):
Total Lots: 50
Pre Sale Low Total Estimate: $6102000
Pre Sale High Total Estimate: $8696000
Total Lots Sold: 45
Total Lots Bought In: 5
Buy In %: 10.00%
Total Sale Proceeds: $11965225
.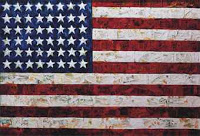 Here is the breakdown (using the Low, Mid, and High definitions from the preview post, here):
Low Total Lots: 4
Low Sold: 4
Low Bought In: 0
Buy In %: 0.00%
Total Low Estimate: $31000
Total Low Sold: $24375
Mid Total Lots: 18
Mid Sold: 16
Mid Bought In: 2
Buy In %: 11.11%
Total Mid Estimate: $605000
Total Mid Sold: $673600
High Total Lots: 28
High Sold: 25
High Bought In: 3
Buy In %: 10.71%
Total High Estimate: $8060000
Total High Sold: $11267250
The top photography lot by High estimate was lot 6, Cindy Sherman, Untitled, 1981, at $1500000-2000000; it was also the top outcome of the sale at $3890500. (Image at right, top, via Christie's.)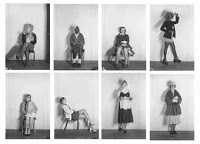 95.56% of the lots that sold had proceeds in or above the estimate range. There were only 2 surprises in these sales (defined as having proceeds of at least double the high estimate):
.
Lot 377, Cindy Sherman, Untitled (Bus Rider Series), 1976/2000, at $206500 (image at right, bottom, via Christie's)
Lot 448, Vik Muniz, Flag, after Jasper Johns (Pictures of Pigment), 2007, at $120100 (image at right, middle, via Christie's)
Complete lot by lot results can be found here (Evening), here (Morning) and here (Afternoon).
Christie's
20 Rockefeller Plaza
New York, NY 10020