The results for Phillips' recent various owner photographs sale in London generally met expectations. While the Total Sale Proceeds fell at the low end of the range, they did cover the low estimate, even with an overall Buy-In rate just under 45%. Irving Penn's images of the hands of Miles Davis once again proved to be enticing for buyers, the lot here (see below) more than tripling its pre-sale high estimate; a variant image from the same series performed similarly well at Christie's last month.
.
The summary statistics are below (all results include the buyer's premium):
.
Total Lots: 192
Pre Sale Low Total Estimate: £1092900
Pre Sale High Total Estimate: £1552600
Total Lots Sold: 106
Total Lots Bought In: 86
Buy In %: 44.79%
Total Sale Proceeds: £1143863
.

Here is the breakdown (using the Low, Mid, and High definitions from the preview post, here):
Low Total Lots: 106
Low Sold: 47
Low Bought In: 59
Buy In %: 55.66%
Total Low Estimate: £351100
Total Low Sold: £156563
.
Mid Total Lots: 72
Mid Sold: 49
Mid Bought In: 23
Buy In %: 31.94%
Total Mid Estimate: £656500
Total Mid Sold: £522100
.
High Total Lots: 14
High Sold: 10
High Bought In: 4
Buy In %: 28.57%
Total High Estimate: £545000
Total High Sold: £465200
.
The top lot by High estimate was lot 115, Edward Steichen, Charlie Chaplin, 1925, at £50000-70000; it did not sell. The top outcome of the sale was lot 121, Irving Penn, The Hand of Miles Davis (B), New York, 1986/1992, at £99650. (Image at right, middle, via Phillips.)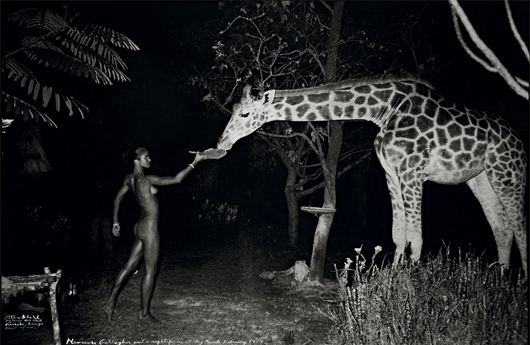 93.40% of the lots that sold had proceeds above or in the estimate range. There were a total of six surprises in this sale (defined as having proceeds of at least double the high estimate):
Lot 23, Herb
Ritts
,
Sand Breasts, Hawaii,
1988, at £8125
Lot 41, Werner Bischof, Courtyard of the Meiji Temple, Tokyo, 1951/Later, at £5750
Lot 81, Frank Thiel, Stadt 2/41 (Berlin), 1999/2002, at £32450 (image at right, top, via Phillips)
Lot 102, Peter Beard, Maureen Gallagher and a night feeder at Hog Ranch, February, 1987/Later, at £79250 (image at right, bottom, via Phillips)
Lot 121, Irving Penn, The Hand of Miles Davis (B), New York, 1986/1992, at £99650
Lot 186, Iwao Yamawaki, Untitled, 1932, at £9375
Complete lot by lot results can be found
here
.
Howick Place
London SW1P 1BB