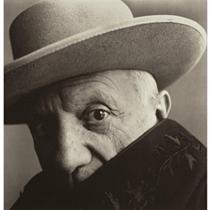 If not for the solid performance of a handful of top end lots, several of which were Irving Penns, the results of the Photographs sale at Sotheby's in London might have looked significantly worse. As it was, the buy-in rate was over 50% and the total sale proceeds just covered the total Low estimate.
The summary statistics are below (all results include the buyer's premium):
Total Lots: 125
Pre Sale Low Total Estimate: £1118000
Pre Sale High Total Estimate: £1557000
Total Lots Sold: 58
Total Lots Bought In: 67
Buy In %: 53.60%
Total Sale Proceeds: £1150950
Here is the breakdown (using the Low, Mid, and High definitions from the preview post,
here
):
Low Total Lots: 6
Low Sold: 1
Low Bought In: 5
Buy In %: 83.33%
Total Low Estimate: £24000
Total Low Sold: £6875
Mid Total Lots: 110
Mid Sold: 50
Mid Bought In: 60
Buy In %: 54.55%
Total Mid Estimate: £1138000
Total Mid Sold: £600575
High Total Lots: 9
High Sold: 7
High Bought In: 2
Buy In %: 22.22%
Total High Estimate: £395000
Total High Sold: £543500
The top lot by High estimate was lot 76, Irving Penn, Two Liqueurs, New York, 1951/1960, at £60000-80000; it was also the top outcome of the sale at £145250.
98.28% of the lots that sold had proceeds in or above their estimate. There was only one surprise in this sale (defined as having proceeds of at least double the high estimate):
Lot 52, Irving Penn, Pablo Picasso at La Californie, 1957/1968, at £121250 (image at right, top, via Sotheby's)
Complete lot by lot results can be found
here
.
34-35 New Bond Street
London W1A 2AA